Wed, 10 June 2020 at 5:10 pm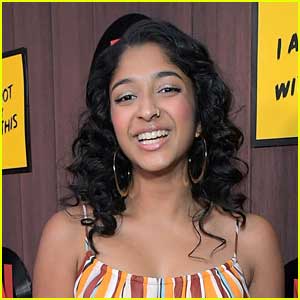 Maitreyi Ramakrishnan is talking about racial stereotypes and her show Never Have I Ever.
The 18-year-old star of the series opened up about how it broke down stereotypes.
"I think it's great that we have a story like Never Have I Ever but it's depressing that this is happening in 2020, and even though we can applaud breaking stereotypes, but we can't forget that we still have so much work to do," she told Deadline. "Devi is only one story. Hopefully as much as this show inspires other minorities around the world, it will also inspire directors, producers, creators, writers to start bringing that natural inclusion into their shows."
Maitreyi also opened up her audition process. If you didn't know, she was cast from an open casting call, and this is her first ever project.
"The audition process was definitely unique, it was a journey in itself, it could be its own movie," she said. "When I got the ask to L.A. and do a screen test, I had to tell my parents 'Hey, I just sent this random guy in LA videos of me acting and now they want to take me to L.A. so can I do that?' After convincing them that this was a very real, legit thing and I'm not being scammed, they were all on board and they were super supportive."
Like Just Jared Jr. on FB