Fri, 19 June 2020 at 2:36 pm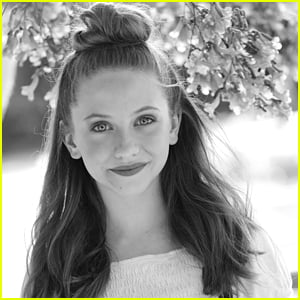 Shiloh Nelson is one of the young stars in the new Netflix film Feel The Beat!
The young actress plays Ruby, a shy, hardworking girl who becomes the stage manager in the flick, which is now streaming.
Shiloh opened up about the film with JJJ, including all the dancing, working with Sofia Carson and more.
"I was a big fan of Sofia's before filming as I had watched her in all of the Descendants films and her A Cinderella Story movie," Shiloh dished. "Once I met her she was so kind, I was completely blown away. She taught me so much and we had so much fun on set. There was one scene where we were separated by the camera and we broke out singing her song 'Space Between' that she sings with Dove Cameron in the Descendants 2 film, which was SO amazing. It's such a fond memory for me as I loved that song from the film beforehand."
"She taught me to always bring my mom to set even when I don't have to. You always need your mom, even when you're older," she added about advice she got from Sofia.
Shiloh also dished on all the dancing in the movie and how she didn't have any dance experience beforehand.
"The rehearsal process was crazy! We had a whole month of dance training before filming. I had never done anything like that. The first ASL I learned from my co-star Shaylee [Mansfield] was the signs for 'hot' and 'tired,'" she said.
"I was the only girl without dance experience going into it so that was intimidating for me," Shiloh continued. "But by the end of the training, I was too good at dancing for my character and the producer had Mia Michaels choreograph mistakes back in for me which made me so happy. It's the first time I've ever had to physically do something like that, and it was the most amazing experience."
"[I'm most excited for] the dancing! I hope everyone hops off the couch and dances," she added.
We also got to know Shiloh with 10 Fun Facts. Check it out inside…
I started acting at the age of one when my older brother Elijah was in a movie that needed a baby comfortable with the main actor, which I was from having spent so much time with him through Elijah. Apparently, I was so comfortable on set I picked my nose through the scene a couple of times.
I've acted alongside my brothers on two different occasions. My brother Judah and I played Mila Kunis and Ashton Kutcher's' imaginary children on an episode of Two and A Half Men.
I'm very competitive with my brothers! I love trying to beat them in anything and everything whether it's a board game, finding the funnier joke, or who can race to the fridge first.
Our biggest TikTok has over 40 million views and I still get complimented on the special effects in it but people don't realize the video is just in reverse. My brother and I just learned how to say our lines backward and to do our movement backward that way our acting and lips look normal when reversed.
I voice a puppy on Disney Channel. I play Keia on Puppy Dog Pals and they make so many different toys of her. There's even one that has my voice coming out of it and it's so funny. I love going into the Disney store and Target and voicing the stuffed animals for kids and watching their reactions.
It's important for me to take a day off. It's so easy to just go, go, go especially in this industry. I'm really intentional about resting.
Dwayne "The Rock" Johnson is a big inspiration for me. I love that he's a huge action star but then also does videos for social media and makes his own films as well. I'd love to make my own films the way he does one day. He's all about the audience which I try to be too and I love his blend of action and comedy.
My five brothers have decided I'm not allowed to date until I'm 16. They always give me the stink eye when I talk about dating one day. I feel sorry for my future boyfriend already!
Not many people realize I've played Sean Astin's daughter twice. The first time was when I was only three so a lot of people don't realize it's me. I'm a big fan of his, and I recently watched The Lord of the Rings for the first time which was super weird for me because I was like "That's just Sean!"
I can beat my brothers at wall sits. It drives them crazy.
Like Just Jared Jr. on FB