Mon, 22 June 2020 at 7:12 pm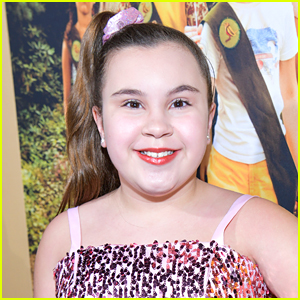 Johanna Colón is dishing on her new movie Feel The Beat!
The young actress plays Lucia, a sweet but clumsy firecracker, who gets strange looks from the other dancers because of her size, but to her that makes her more confident and she doesn't care; she still loves to dance!
Johanna dished that she actually auditioned for another role but, the producers "fell in love with her during casting and decided they wanted her in the movie so they created the part of Lucia for her." They even asked her ethnicity and made sure that her character would also be Latina so that she could represent her culture.
She also shared a moment during her audition that they included in the movie!
"There was actually a part in my audition where my glasses feel off, I picked them up and just started dancing with them. The producers loved this so much that they actually added this as a scene in the movie," Johanna told JJJ.
"There is a scene where I have to stand in the rain to get my part of the scene. I remember it being really cold and glasses kept having to be fixed. In between takes Sofia would come over and hug me so tight with my blanket. She is one of the sweetest people I have ever met," she gushed about her co-star Sofia Carson. Check out a photo in the gallery!
"I'm living my dream! I hope to give girls who look like me who are told they can't be movie stars a chance to see. We are fierce, we are bold, we are stars," Johanna said.
Be sure to check out Feel The Beat on Netflix right now. It's currently (at the time this was posted) the number five movie in the US on the streaming service!
Click inside to see 10 Fun Facts with Johanna Colón from Feel The Beat…
1. I love to dance.
2. People don't realize I'm Puerto Rican.
3. I love to cook and I want to open a restaurant with my dad after I win an Oscar.
4. I started performing comedy to make my brother cheer up while he was in the hospital for 64 surgeries.
5. I love to improv and was allowed to improv my character Smash in Troop Zero.
6. I love to be behind the camera and when I'm not on screen you can usually find me in my video tent watching and learning.
7. I love to play dominoes and Just Dance.
8. I write my own comedy skits and characters.
9. I am an older sister.
10. I have been dancing since the age of 2, so dancing comes naturally for me. I went viral at age 6 at my dance recital dancing to Aretha Franklin's award winning song 'Respect'. Who would have thought a few years later I would be an actress earning my respect one role at a time.
Like Just Jared Jr. on FB