Tue, 23 June 2020 at 3:04 pm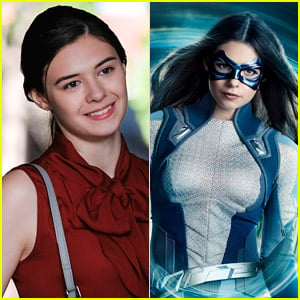 Nicole Maines is opening up about by sharing some fun facts about herself!
The 22-year-old actress stars as Nia Nal/Dreamer on the hit CW series Supergirl.
While many know Nicole from her role as the first ever transgender superhero, she's also a transgender rights activist in real life. She even won the court case Doe v. Regional School Unit 26 against her Maine school district for violating the Human Rights Act.
Just earlier this month, Nicole opened up about wanting to see all kinds of different roles for transgender actors and actresses.
While getting to know Nicole, we learned 10 Fun Facts about the actress and activist, including her favorite movie scene, what martial art she has a black belt in, and what Hogwarts house she would be in. (If you missed it, see what she said about still being a Harry Potter fan, despite author JK Rowling's transphobic remarks.)
1. I went to college for Studio Art, but was never finished because I joined Supergirl just before my senior year.
2. I've watched Beauty and the Beast three times in the past month.
3. When I was in fifth grade, I got my black belt in taekwondo.
4. My first ever acting role was Veruca Salt in my middle school play.
5. My favorite flavor of ice cream is orange pineapple, but I can never find it anywhere. My dad and I are trying to perfect our own.
Click inside to find out more about Nicole Maines…
6. My Hogwarts house is Slytherin. My Patronus is a wild boar and my wand is 10 3/4 inches, English oak, slightly springy, with unicorn hair core.
7. My favorite broadway musical is Wicked. I saw it in person for the first time this past December and it was everything I hoped it would be!
8. My favorite food ever is crab rangoons.
9. When I was little, I had a Wizard of Oz playset that had the Witch of the West's fortress on the right side, and it forever mixed up East and West for me.
10. My favorite movie scene has got to be from Jim Carrey's How the Grinch Stole Christmas when Christine Baranksi fires the Christmas lights out of a mounted turret. That's feminism, honey.
Like Just Jared Jr. on FB