Wed, 24 June 2020 at 1:11 pm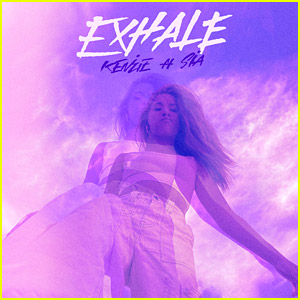 Kenzie's new song with Sia, "Exhale", is out now!
The 16-year-old singer dropped the new track on Wednesday (June 24), along with a quarantine filmed music video.
Kenzie even enlisted a bunch of her friends to be in the video, including Johnny Orlando, Dove Cameron, Sage Rosen, Hayden Summerall, Emily Skinner, Dylan Conrique, Abbi Dicenso, Cameron Field, Charlize Glass, Tati McQuay, Gio Pilla, and Lucas Stadvac.
Kenzie recently opened up about how Sia got involved in the song.
"So, I actually got the song sent to me as a demo. It was just going to be me on it. I thought to myself, 'Wow this song is so good.' I was on tour and went to a random recording studio in Boston and I recorded the song with a random person. It was an experience so different and something I've never done. After that, I went back on tour, flew to where the production team was and came back on the bus. So, I never heard back from them; I didn't hear from them at all," Kenzie told MOOD Magazine.
"Then I finally got it back and we thought we couldn't get the demo right, so we dropped it. But then we got it back again and I sent it back to Sia and she was like, 'This song is so good!' Then she said, 'I want to be on it,'" she added. "I was surprised and she told me, 'Well if you don't like the song, I'll just take the song from you' [Laughter]. I definitely wanted to sing together with Sia so it worked out pretty well."

kenzie – 'Exhale' featuring Sia
Like Just Jared Jr. on FB