Mon, 29 June 2020 at 9:14 pm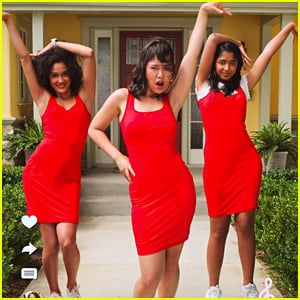 Maitreyi Ramakrishnan is opening up about what she says was one of her favorite scenes to film on her Netflix series Never Have I Ever.
The young actress stars as Devi in the show, and she dished on doing the "My Fit" TikTok dance in the third episode.
"Oh my God. That was so hard. I love to dance, but am I the most skilled dancer in the world? Probably not. No, definitely not. We were learning that dance in the span of a couple of hours. And me, Lee [Rodriguez], and Ramona [Young] would practice whenever we could," she told Deadline.
"And then when it came to the actual dance, it was so interesting to see how it was filmed. It was probably one of my favorite scenes to film," Maitreyi added. "The crew, the lighting guys, the sound guys, everybody got really into it. They would be dancing on the front porch of Devi's house, having dance-offs."
Maitreyi also shared what she wants to see happen in a second season. The show has not officially been renewed yet.
"I would love to see Devi love herself. I think that's an important message that not just high school teenage girls could learn. Just the idea of loving yourself is something I think a lot of people need to hear," she said.
"I don't think we do that enough. I don't think we value ourselves as much as we should. People tend to take care of other people, but they tend to neglect their own emotions, their own well-being, their own mental health," Maitreyi continued. "Devi's a prime example of that. She only just started at the end of the series to confront her grief for her father. We can't go to Season 2 and pretend Devi's all better now. That doesn't make sense. That's not how it works."
Like Just Jared Jr. on FB