Tue, 30 June 2020 at 12:45 am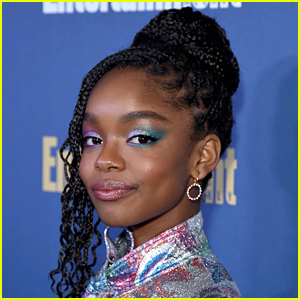 Marsai Martin mocked the recent apology videos that have been posted on YouTube in the past week.
The 15-year-old black-ish star clapped back at haters who had some things to say about her hair and teeth during the 2020 BET Awards.
"So, I was on Twitter, and a lot of people have been addressing my hair and talking about my hair, and how it looks like a grandma's wig," she said, while holding back "tears".
"And they're talking about my veneers," she added before pulling out her retainer. "These don't look like a veneer to me."
"It's hard… I'm sorry to anyone that I offended or haven't gotten to your expectations about how I'm supposed to be. I apologize. I never want to hurt anyone's feelings or have anyone worry about what my decisions are," Marsai continued, before stopping to hold back tears. She then motioned for a tissue, and was handed a $100 bill, which she then blew her nose with.
"Ya'll we are in quarantine, and we've got more things to focus on than just my hair. Justice for Breonna Taylor," she concluded.
"Sorry some of y'all don't like my hair. Or teeth … which are my actual teeth btw. Good thing I don't put my effort into trying to please everyone. I like it. Chile I'm 16 this year, let me live. I'm trying to stay sane in quarantine. Enjoy the #BETAwards," she added on Twitter.
In case you missed it, find out which award Marsai won at the 2020 BET Awards!
Like Just Jared Jr. on FB