Tue, 30 June 2020 at 2:36 pm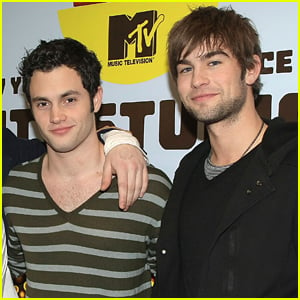 Penn Badgley and Chace Crawford had a mini, virtual Gossip Girl reunion!
The two former co-stars chatted about their current shows, and reflected on their time together on the CW series.
Penn and Chace dished on how Gossip Girl should get a little credit for Twitter.
"I remember even meeting a publicist that first season, and she was talking about this thing called Twitter. And as she explained Twitter, I was like, 'What is this nonsense? I don't want to have a Twitter account, and you tweet. What is this bird thing?' That's something that actually years later, I think we got to give credit to Gossip Girl," Penn said in their Variety "Actors on Actors" interview.
"It was ahead of its time. It really tapped into something interesting on the cusp of it all changing," Chace added. "I'm like, 'Why would I want to put my life out there? I'm trying to crawl into my hermit shell. I'm a Cancer.' But now we're all partaking. It's part of the business. I should follow you."
The guys also talked about watching the show back. Penn said the last time he watched it, it was "very hard to watch" and "sometimes it's just uncomfortable."
Chace added that you would have to "strap me to a gurney and pop my eyes open like Clockwork Orange. But no, it would be interesting to see the first couple maybe."
Like Just Jared Jr. on FB