Wed, 08 July 2020 at 3:38 pm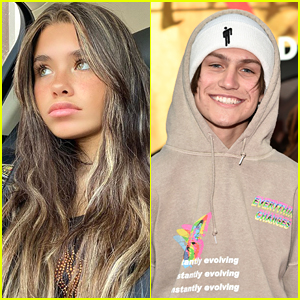 Nessa Barrett is speaking out for the one and only time on all the TikTok drama this week.
The 17-year-old shared a statement confirming her kiss with Chase Hudson earlier this year, and has considered quitting social media altogether because of all the hate.
"I'm only going to speak on this matter once because there are far more important things happening in the world right now," Nessa told Us Weekly. "I'm tired of being everyone's scapegoat, no matter what I say or what people say I've done, I get hate online."
"Yes, Chase kissed me & nothing else happened after that. I can speak for the both of us that it didn't mean anything," she continued. "The narrative that is being spun around me is one of hate and slut-shaming, and the constant DMs and emails of people telling me I'm stupid and should kill myself are getting to be too much for to me bear. I've deleted my apps off my phone and only re-download to post — it's gotten so bad. It makes me want to quit social media altogether."
"I'm thankful for my true friends, my team, and finding solace in the studio on a daily basis. My music has been my therapy, and I'm excited to share my side of the story and my truth through my music with the world when it's ready," Nessa added.
Chase has also previously spoken out in since deleted posts.
"The only person who has a right to be upset with me is Charli and I'm sorry I hurt her," he said, via Cosmopolitan. "We broke up and I messed up by kissing Nessa. I am not sorry to Josh, we are not boys and we haven't been boys since he lied to Charli saying I had an STD 6 months ago trying to get her to stop seeing me."
Charli even slammed Chase and responded directly to his post, saying, "Stop deflecting you're [sic] actions onto others because you can't take responsibility, Chase. Want me to talk about how you treated me throughout our relationship or do you just want to continue to play the victim?"
Like Just Jared Jr. on FB