Thu, 09 July 2020 at 7:17 pm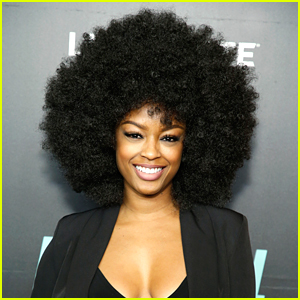 Javicia Leslie has landed the lead role in the upcoming second season of Batwoman!
The 33-year-old actress will take on the new character Ryan Wilder, who then becomes the titular caped hero.
Many people will recognize Javicia from her role as Ali Finer in God Friended Me. She's also been in the BET series The Family Business, and the movie Always a Bridesmaid, which is available to stream on Netflix.
Javicia was born in Germany and later moved to Maryland, where she grew up. She then worked for the government for a year and a half, before eventually moving out to Los Angeles in 2012 to pursue an acting career.
After moving to LA, she was working at a trade show with a friend where she was approached by a talent manager.
"So, I was helping her out and this lady comes up to me while I'm selling things and just asked me, 'Am I a model or an actress?' 'I'm anything you want me to be.' She was like, 'Well, I'm a talent manager. Look me up. Tell me if you like what you see. Then come into my office next week and we can meet,'" Javicia said in an interview back in December. "So, I looked her up. I liked what I saw and I signed with her the following week. She's actually still currently my manager. Then from there, she helped me get an agent."
A few years had passed and she booked a role on MacGyver, then a recurring role on The Family Business, which was originally supposed to be a movie. She then booked God Friended Me, and The Family Business got picked up as a series instead, and she filmed both projects at the same time!
Javicia has also opened up about being spiritual and how that helps her when auditioning.
"I just believe whatever's for me, is for me, and my only job is just to be the best version of myself. So, that's all I brought to the table," she said. "Luckily this one was for me, but the next one wasn't. You know? So, it's just like, you don't really hold your breath about it. You just go in there, you do your job, and you walk away."
"I love working. I'm kind of in the stage of my life where I just want to just take every opportunity to work, to travel for work, and to do really different kinds of roles," Javicia dished about working. "I always want to be able to have that flexibility, which is why I don't really like taking too much of a hiatus."
Like Just Jared Jr. on FB