Fri, 10 July 2020 at 7:14 pm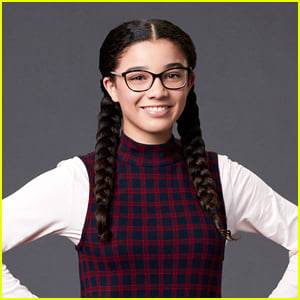 Malia Baker is breaking out in the spotlight in The Baby-Sitters Club on Netflix!
The actress stars in the new series as Mary Anne Spier, the treasurer of The Baby-Sitters Club.
"She has a lot of inner dialogue and is funny without realizing that she is. She is a dreamer who is shy with a benevolent warm and accepting nature," Malia told J-14 about her character. "Mary Anne is being raised by her overprotective but caring dad and she loves her friends more than anything!"
Malia has previously been seen on TV in episodes of The Flash, A Million Little Things and The Twilight Zone.
We got to know Malia, and the rest of The Baby-Sitters Club, with 10 Fun Facts. Get to know Malia below:
1. I love listening to music and my taste in music is all over the place. I'll go from Ella Fitzgerald, to The Beatles, to the Notorious B.I.G., to Aretha Franklin and then to Beyoncé!
2. I've had an obsession with the Hamilton soundtrack since 2016.
3. I've secretly wanted to chop all my hair off! But then I chickened out because I love my hair and I am scared to cut it all off, haha!
4. My favorite type of cookies are macarons, just to be fancy.
5. It's funny, but I feel very uncomfortable when the attention is all on me, which is a weird thing to say considering I'm an actress! I have definitely gotten used to it, but still find it very weird.
Click inside to learn more fun facts about Malia Baker…
6. I don't like going on hikes. I don't understand how people enjoy climbing uphill for possibly hours on end and waiting to get to the top to go back down again. I will go if you drag me with you, but never voluntarily.
7. I get cold very easily! You'll see me outside for two minutes and my hands would already be purple, winter or not.
8. Weird fact, but I have never gotten a brain freeze. I know lucky me, but I am curious about how it feels.
9. I love using my voice for change! Now with a platform, which I am so grateful to hold, I get to share issues that need attention to so many more people.
10. When I was younger I truly believed I would be a spy when I grew up! I used to listen to "These Boots Were Made for walkin' by Nancy Sinatra and daydream about being handed my next mission.
Like Just Jared Jr. on FB