Wed, 15 July 2020 at 11:00 am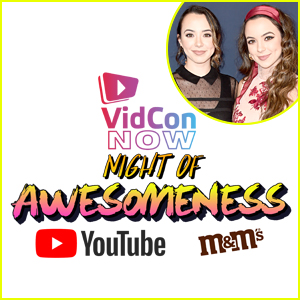 We are so excited to exclusively announce that the Merrell Twins are taking on hosting duties for the Night of Awesomeness!
Vanessa and Veronica will host the VidCon Now event virtually on Saturday, July 25th.
The Night of Awesomeness will bring the worlds of AwesomenessTV and VidCon together as your favorite creators go head to head in a variety of iconic YouTube challenges and introduce new ones that will have audiences, laughing, dancing, and putting their pop culture trivia to the test.
"We're excited to host VidCon Now's Night of Awesomeness because we've been attending VidCon for six years and this year would have been our seventh time attending," Veronica exclusively told JJJ. "We've always loved the idea of hosting and we're truly honored that we were asked to host this year."
"Being a part of VidCon, even if it's virtual this year, is always a highlight of our summer. We love all the events that take place during VidCon and Night of Awesomeness is always a very fun time!" Vanessa added. "We're so excited and looking forward to it!"
Other creators taking part in the night include Amelie Zilber, Riley Hubatka, the Coverboys, ATV's Honey Robinson, and the Montes Twins. The evening will also feature special musical performances from JUFU, Avenue Beat, and more.
Fans will have the opportunity to donate to the NAACP, the largest and most pre-eminent civil rights organization in the nation, throughout the event. Attendees can also enter for a chance to be featured in the next tentpole event, "I'm A Performer", set to air on August 22nd, by submitting a video of an original song. Submissions will open following the conclusion of Night of Awesomeness and run through August 16th.
Night of Awesomeness will air exclusively on YouTube, presented by M&Ms, on Saturday July 25th at 4pm PT / 7pm ET on VidCon's YouTube channel.
Like Just Jared Jr. on FB