Mon, 20 July 2020 at 1:00 pm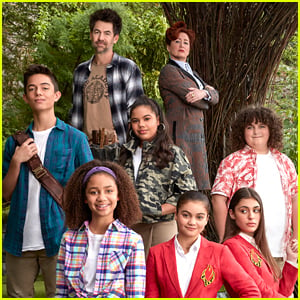 The stars of the upcoming DCOM Upside-Down Magic are opening up about the school in the movie, Sage Academy!
Izabela Rose, Siena Agudong, Max Torina, Elie Samouhi, Alison Fernandez and Kyle Howard are all dishing on the magic school and what the UDM is.
In the clip, the stars also open up about the heartfelt themes of the movie, and the underlying message.
Upside-Down Magic follows Nory (Rose) and her best friend Reina (Agudong) who enter the Sage Academy for Magical Studies, where Nory's unconventional powers land her in a class for those with wonky, or "upside-down," magic. Undaunted, Nory sets out to prove that that upside-down magic can be just as powerful as right-side-up.
In case you missed it, be sure to check out the latest teaser from the new Disney Channel Original Movie!
Upside-Down Magic will premiere NEXT Friday (July 31) at 8pm ET/PT on Disney Channel.
'Welcome To Sage Academy' – 'Upside-Down Magic' Featurette
Like Just Jared Jr. on FB