Tue, 21 July 2020 at 7:58 pm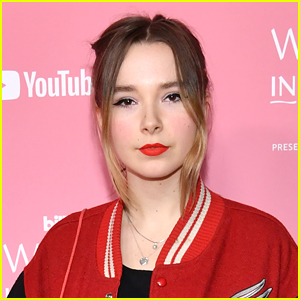 Lydia Night is speaking out about her relationship with SWMRS drummer Joey Armstrong.
The 19-year-old The Regrettes singer shared a lengthy, detailed letter on her Instagram about emotional abuse and sexual coercion from her ex after her his band shared a statement about abuse in the music industry.
"Over the past few weeks, I've read a lot of heartbreaking, disturbing and inspiring stories of abuse in the music industry that were brought to light by some very brave womxn," Lydia began. "Yesterday, my abuser Joey Armstrong and his band SWMRS released an unbelievably hypocritical statement on social media that has pushed me to publicly shared my story. This band's delusional positioning of themselves as woke feminists is not only triggering for me as a victim, but is complete bullsh-t and needs to be called out."
"I've spent over a year processing and reflecting on my experience to try to find the right way to go about it," Lydia continued. "I was in a relationship with Joey that started when I was 16 and ended right before my 18th birthday. For so long I viewed it just as being toxic and not something valid enough to shared but now I know that what I actually experienced was emotional abuse and sexual coercion by someone in a position of power over me."
"It's important to me that Joey and his entire band are held accountable to fully understand that even they may view themselves as 'good guys' they are continuing to perpetuate the exact toxic culture they are trying to call out."
Lydia's current boyfriend Dylan Minnette and her bandmate Genessa Gariano have also spoken out after Joey shared a new statement in response to Lydia.
this is true. my comment that read "what a backhanded way to (not) accept responsibility and minimize lydia's experience and avoid what was actually said about you you narcissistic piece of shit." was not allowed to be posted on joey's/their "apology". https://t.co/dfF2nO5CpM

— Dylan Minnette (@dylanminnette) July 21, 2020
Click inside to see Lydia's full letter…
See below for SWMRS original statement, which Lydia is responding to…
Like Just Jared Jr. on FB