Wed, 22 July 2020 at 5:17 pm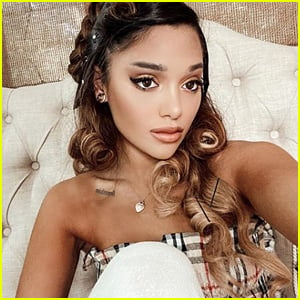 Gabi DeMartino is celebrating the fifth anniversary of her Fancy Vlogs by Gab channel!
The 25-year-old YouTuber shared a note on her Instagram page where she opened up about her evolution through the years.
"5 years of fancy vlogs 🎂 the day my life basically started. within those years i found who i am. in the beginning, i was a lost little girl who didn't know who she was," Gabi wrote. "i'm so happy to have you guys on this journey with me. you guys make my life go round and you make everything in this life possible for me and for that i can't thank you enough. thanks for supporting me in anything i do even if it's total cringe.
Check out her full note here!
Speaking of Gabi's vlogs, she recently opened up in a vlog about how some of the fan comments when she has an exciting announcement are disheartening.
Last week, she shared the great news that she is releasing her own perfume, which if you know Gabi, that's a pretty big, and awesome, deal! However, there were people who commented that they were disappointed that her announcement wasn't about an engagement or a pregnancy.
"It's just annoying how a lot of girls my age, or people see my age, 'Oh she's 25, where the ring? Where's the baby?' No. Where I am at in life is a very happy place," Gabi said. "I am thriving with work and I love my job. My hobby has thankfully become my job and it's making life so awesome for me in my 20s. With that being said, I am so in love. We have been together for a very long time as you know. But we are also moving at our pace and not our subscribers' pay, not our followers' pace."
"When I say I have good news, it really is disheartening and disappointing and super un-motivating when I see people are actually, genuinely disappointed it's a fragrance launch and not a pregnancy or an engagement," she added. "These marriage and baby comments have to stop. I've barely been posting Collin on this channel and on Instagram because of those comments…I don't want to stop doing something we both love. We love to vlog together, so we are going to continue vlogging together. I'm just really, really sick and tired of the comments."
Like Just Jared Jr. on FB