Fri, 24 July 2020 at 12:13 am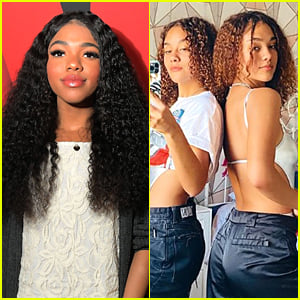 Teala Dunn is one of the newest members of Clubhouse BH!
The 23-year-old YouTuber and actress, along with Montes twins Alicia and Alexa, has joined the TikTok group.
Teala dished that because she was already friends with Clubhouse member Charly Jordan and she was already at the house a lot, it was an easy decision to join.
"Clubhouse BH is very classy and has this girl-power energy," Teala dished to Seventeen. "It just worked out perfectly and it was very organic."
"I'm excited that there's going to be diversity in the Clubhouse," she added. "That's definitely something that the Clubhouse was lacking and I'm looking forward to bringing some spice, some flavor and some bad dancing."
Alicia and Alexa are moving from Clubhouse Next over to BH.
"BH has a really good vibe," Alexa told Seventeen. "It's a beautiful house and I'm just excited for the new content and new opportunities."
"I only got here like a month ago and I feel like I've known everybody forever. We all truly work really well together and it's been really fun," she added.
You can follow Teala on TikTok at @ttlyteala and follow the Montes twins at @TheMontesTwins!
In case you missed it, find out about the newly formed Clubhouse FTB (For The Boys)!
Like Just Jared Jr. on FB