Thu, 30 July 2020 at 6:30 pm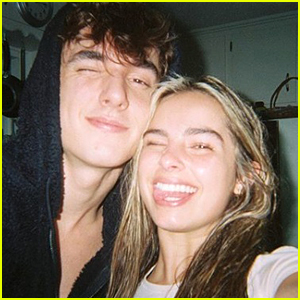 Bryce Hall was grilled about his relationship with Addison Rae!
While appearing on a new episode of Logan Paul's Impaulsive podcast, the guys asked what was going on between them.
"We just posted our first Instagram photo together since November of last year," he said. "It's so different. We're both so different. She's family friendly, I'm just not. I feel like we're kind of like David Dobrik and Liza [Koshy] almost. Like that mix, not exactly."
"No, it's not [official]. We're pretty off social media type things, ya know? We're not announcing… We're not even dating. We're not dating, yet. We're not boyfriend and girlfriend," Bryce added. "I guess you could say we've went on dates."
When asked what it will take to make it official, he said, "When I grow the balls to ask… Honestly, I'm not like a really romantic guy. I am so bad with expressing my feelings and stuff. I'm like a bro's bro, and I don't know how to be cute in that sense, where I'm like, 'Hey, I set up this whole thing to ask you out.' I just want to be like, 'Hey, do you want to be my girlfriend?' I'm like that guy. But I am gonna do something, IF I decided, 'Hey, let's do it,' it's gonna be dope."
Bryce also opened up about all the media attention and the constant paparazzi.
"It's so crazy. We don't post where we go or anything when we hang out, and then there's just paparazzi. It's weird," he said, adding that it does feel invasive sometimes, especially when he's just trying to eat.
In case you missed it, see what Addison recently said about their relationship!
Like Just Jared Jr. on FB