Fri, 31 July 2020 at 4:30 pm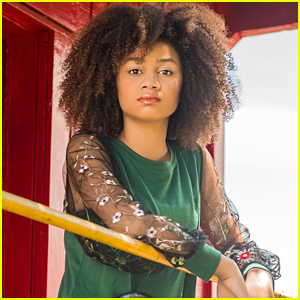 Izabela Rose is soon to be a major Disney star!
The teen actress will be starring in the brand new Disney Channel Original Movie Upside-Down Magic, which premieres TONIGHT (July 31).
Izabela stars as Nory, whose unconventional powers land her in a class for those with wonky, or "upside-down," magic at the Sage Academy for Magical Studies.
Undaunted, Nory sets out to prove that that upside-down magic can be just as powerful as right-side-up.
VIDEO: Click here to watch the Upside-Down Magic trailer!
JJJ caught up with Izabela (virtually, of course!) to get the scoop on her first movie, and we also got to know more about the rising star.
"It was truly a dream come true! Being able to walk on set every day, and work with such a talented cast and crew was so inspiring," she told us about this being her first movie. "Seeing the magical sets was also so special with this movie. It proved to me that hard work really does pay off."
She also dished on what she's most excited for fans to see!
"There is so much magic in this movie, and I am really excited for the fans to get more familiar with each character's special abilities!" Izabela said. "At Sage Academy every student displays one from these five different categories of magic: Flyers, Fuzzies, Flickers, Fluxers or Flares. My character, Nory, is a Fluxer, so she can turn into animals! Reina (Siena Agudong) is a Flare, and she can manipulate fire. Andres (Max Torina) is a Flyer so he can fly. Fuzzies can talk to animals. And Pepper (Alison Fernandez) is a Flicker, so she can move objects with her hands without touching them."
"It is amazing to see how each character uses their magic, and also what it means when some of the students have Upside-Down Magic. I can't wait for everyone to learn more about that soon!" she added.
Tune in to catch Izabela and everyone else in Upside-Down Magic TONIGHT (July 31) at 8pm ET/PT on Disney Channel!
Click inside to learn 10 Fun Facts about Izabela Rose…
1. I have 2 younger brothers. They are 9 years old and identical twins!
2. I love to bake deserts (esp. during this quarantine)! Ice cream cookie sandwiches are my specialty!
3. I really enjoy hiking in nature.
4. I like to visit haunted houses for fun!
5. I enjoy horseback riding because I love animals so much.
6. I am a gamer in my free time. I like to play Roblox and Minecraft.
7. I am very inspired by old Hollywood, and respect those iconic actors so much like Lucille Ball, Judy Garland, and Shirley Temple.
8. I have been boxing since I was four years old! My Pappi is actually my trainer!
9. I have a wide range of musical tastes, and my current playlist includes artists like Doris Day, Bobby Darin, Billie Holiday, Duke Ellington, Stevie Nicks, Beyonce, Lizzo, and Billie Eilish.
10. I competed in pageants when I was little, and it inspired me to get into fashion. Recently, I even co-designed a few of my outfits with designers for red carpets.
Like Just Jared Jr. on FB