Thu, 06 August 2020 at 1:41 pm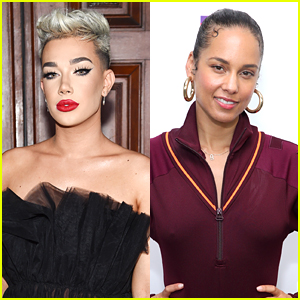 James Charles is issuing a statement and apology to Alicia Keys after subtweeting about her.
On Wednesday (August 5), it was revealed that the Grammy award winning singer would be teaming up with the brand E.L.F. for a new "lifestyle beauty brand."
Alicia retweeted the news that night, adding, "Ya'll have been asking about my skin care routine…"
After finding out about the news, James tweeted about celebrities coming out with makeup lines.
"people who do not wear makeup should not be coming out with makeup brands but that's just my opinion," he wrote in a now deleted tweet.
James has now released a note apologizing for his "microaggression against someone I respect.
"Yesterday I posted a subtweet about how I thought some celebrities shouldn't launch makeup lines. It was about @aliciakeys. A few years ago, she announced that she no longer would wear makeup, so I was bothered because many celebrities come into the beauty space as a cash grab without any actual passion and then leave," he wrote. "I deleted the tweet after a few mins because it's childish to indirect tweet someone & I am not the gatekeeper of makeup."
"I'm not glad that I DID delete it because after reading further, I learned that the beauty line is SKINCARE," James added. "Regardless of my intention with my tweet, it ended up being a microaggression against someone I respect, so to @aliciakeys I owe a direct apology – I'm sorry."
See James' full note and apology to Alicia below…
Like Just Jared Jr. on FB