Tue, 11 August 2020 at 1:55 pm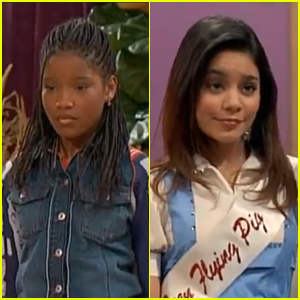 Keke Palmer is throwing it way back!
The 26-year-old entertainer shared some videos from a pilot she shot for the Disney Channel called Keke and Jamal.
Keke was going to star in the show alongside Andre Jamal Kinney, who you may recognize from Hannah Montana, and Vanessa Hudgens (pre-High School Musical)!
"Omg my big bro @andrejamalkinney pulled this out of the archives. When I first moved to California I was introduced to Ralph Farquhar (one of the creators of The Proud Family, Moesha, The Parker's etc) he took a chance on me and he landed me this pilot with Disney Channel that didn't get picked up called Keke & Jamal lol it was loosely based on my life," Keke wrote on Instagram.
"A little girl named Keke with big dreams of being an entertainer and her tight nit family. I was ten years old and I can remember it like it was yesterday 😭. We filmed this on the old That's So Raven set and that was when I first met Raven Symone. True dream come true for me and like a fairytale. I hope it makes you laugh like it has mad me hahaha whew," she added.
Andre shared some video clips as well, and revealed he also shot a Disney Channel pilot with Zac Efron!!
"Fun Fact: A year before joining the Hannah Montana cast, @keke and I shot a pilot together called Keke and Jamal. Our chemistry was tooooooo good 😂. (And yes, that's @vanessahudgens pre HSM.) At this time, I'd already shot another Disney pilot with Zac Efron that didn't make it to series, and I was playing various characters on The Proud Family," he wrote on Instagram.
"A LOT was happening at that time, but I wanted sooo badly to go to series with this show and wave my little Disney wand around and say 'Hey, I'm Andre Jamal Kinney, and you're watching Disney Channel.' 😂. It hurt like hell when we didn't get picked up, but I eventually accepted that my path was not for me to decide (which isn't easy to do at 14 years old). On the slick, God probably knew I was too much for Disney and did us all a favor 😂😂," he continued.
Check out all the videos below!!
Like Just Jared Jr. on FB