Wed, 26 August 2020 at 5:26 pm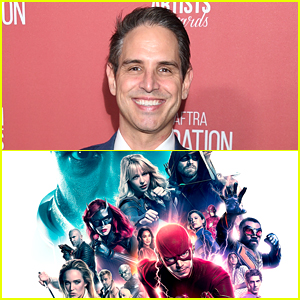 Greg Berlanti recently opened up about the future of the Arrowverse crossovers!
The producer of many of The CW shows talked about what this next season's event will be like during the DC FanDome event last weekend.
"In terms of what our next crossover event will be next year, I think truly because of COVID right now and the pandemic, our aspirations aren't quite as large. We'd just like to start shooting again," he said during the Multiverse 101 panel.
Greg also shared that the Arrowverse/Multiverse crossovers weren't ever in their original plans.
"When we started out just with Arrow, eight – nine years ago now, it wasn't our intention to replicate what everyone had done so brilliantly in comics," he said during the panel. "And it wasn't until The Flash came along and we tried in the pilot of The Flash to put the two of them [Stephen Amell and Grant Gustin] on screen together, that I remember watching that first scene of the two of them together and thinking like, 'Oh wow, this makes me feel like the DC books made me feel.' Like one plus one equals three."
This season's Arrowverse crossover will be much smaller than Crisis On Infinite Earths was last season, with just Superman & Lois and Batwoman being the only two shows to cross over, as was revealed earlier this year.
Like Just Jared Jr. on FB