Sun, 30 August 2020 at 12:03 am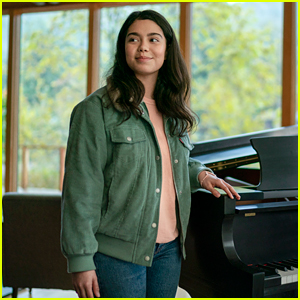 Auli'i Cravalho is dishing on her brand new movie All Together Now!
The 19-year-old stars as Amber in the Netflix film, which is based off of the book "Sorta Like a Rockstar".
VIDEO: Watch the All Together Now Trailer Here!
Auli'i recently opened up about the similarities she shares with Amber.
"I remember reading the script and realizing Amber and I have a lot of similarities," she told Teen Vogue. "I think of myself as someone who is very optimistic, almost to a fault, in that I'm not as honest with myself or even with those closest to me when I need a break, or when I need help."
"That was so difficult for me, and as teenagers, we're going through it," Auli'i added seeing a mental health professional for the first time. "And Amber especially, someone who is dealing with homelessness as well as wanting to fight for her dreams to go to renowned school like Carnegie Mellon. So it's really important to remember that teenagers and teen stories can have these really deep storylines, and can tackle all of these issues, and can touch upon them because they're real."
All Together Now is currently streaming on Netflix!
Like Just Jared Jr. on FB