Tue, 01 September 2020 at 5:12 pm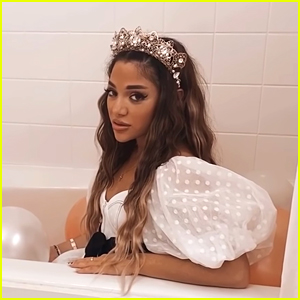 Gabi DeMartino's brand new song "Champagne Dreams" is finally here!
The 25-year-old YouTuber and singer released the lead single from her upcoming album Beautiful Mess on Tuesday (September 1).
"'Champagne Dreams' is a song about how I used to dream before I was able to fulfill my fantasies of living the high-end luxury life," Gabi dished about the song in a statement. "To live the way I do now, it seemed like a very unattainable goal and after reading a few journal entries from my past, I was able to collaborate with Hanan Rubinstein and Rob Grimaldi and bring those dreams to a reality through music."
"The sound is very bubble gum pop meets old school Kesha," she added. "I've never recorded a song in this rhythmic genre before, but I'm happy to open the door to new styles of singing for myself. This track will make you splurge on those Louboutins."
JJJ also spoke to Gabi and got the scoop on her brand new song and filming the lyric video in quarantine.
"I filmed this lyric video on my birthday in quarantine on an iPhone Instagram filter! Filming the actual music video was easy to follow social distancing guidelines because majority of filming was outside on a beach," Gabi told us.

Gabi DeMartino – 'Champagne Dreams' Lyric Video
Click inside to for the rest of our interview with Gabi DeMartino…
Just Jared Jr: What made you want to choose "Champagne Dreams" as the first single from your album?
Gabi DeMartino: It's the perfect lead-way track into my beautifully messy life. The tracks reminisces through all my dreams years ago that I thought were super unattainable and here I am living them. I think it strongly represents this era and album, lyrically and visually. It's a jumpy and happy song and I think that style is the best way to debut the album.
JJJ: How does the first single set the tone for the rest of the album?
GD: "Champagne Dreams" displays my dreams wholeheartedly and it's great for the listeners to get the best understanding of myself before getting deeper into other tracks on Beautiful Mess. This track is from the "beautiful" section of my album, it's split into two parts. I can't wait for my listeners to party to the messy tracks.
JJJ: What was your favorite part about making the song (writing, recording, etc.)?
GD: My favorite part was being able to put my mind into my ears. I've never done that before in my music career. I've written a lot of songs that didn't get past certain opinions and now I have this whole project where the only opinion that matters is me!
Like Just Jared Jr. on FB