Mon, 07 September 2020 at 1:00 pm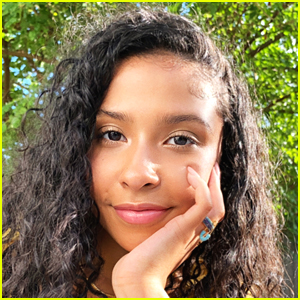 Madison Reyes is making her acting debut in the upcoming musical series Julie and the Phantoms!
The 16-year-old stars in the title role of Julie for her first project, premiering on Netflix.
VIDEO: Watch the trailer for Julie and the Phantoms!
Here's a synopsis: High schooler Julie (Reyes) lost her passion for music after her mom died last year. But when the ghosts of three dreamy musicians (Charlie Gillespie, Owen Joyner, and Jeremy Shada) from 1995 suddenly appear in her mom's old music studio, Julie feels her own inner spirit beginning to reawaken, and she's inspired to start singing and writing songs again. As their friendship with Julie grows, the boys convince her to create a new band together: Julie and the Phantoms.
JJJ got to know soon to be rising star Madison with our exclusive 10 Fun Facts feature. Check it out below!
Julie and the Phantoms premieres THIS Thursday (September 10) on Netflix.
1. I'm a big anime fan. I've been watching anime since the 6th grade, and my love for it has only grown. The most recent anime I finished was DEMON SLAYER.
2. I love peanut butter and jelly sandwiches. If you were to ask what my favorite crafty snack was on set, they would all say PB&J. Maria, the lovely lady in charge of crafty, would always put halves on my chair just before she put the sandwiches out for everyone else.
3. I love reading. My favorite series at the moment are all the "Alex Cross" books by my favorite writer James Patterson.
4. I played Princess Jasmine in my 7th grade school musical. Being a princess was something I constantly daydreamed about while growing up. When I heard that the school musical was Aladdin, I worked so hard to get the role. My favorite moment from playing her was on closing night. This little girl wanted to take a picture with me because I was a princess.
5. I know I mentioned anime, but I'm also a really big DC Comic fan. My father and I are really into that stuff. He prefers Marvel but DC's animated movies are just too good and never disappoint. I also just really love all the Robins and their individual backstories.
Click inside for more fun facts…
6. As much as I hate to admit it, I have the biggest fear of thunder and lighting. When I'm inside, it's not that bad, but when I'm outdoors I want to get in as fast as possible. It's the fear that I'll get struck. I remember once I was in on a zoom call with the guys and Jadah, and there was a storm with lightning and thunder. I was next to windows, and I hate being by windows when there's thunder. It was so hard to continue the meeting, but the show must go on.
7. I love Daisies. I don't know why Daisies are my favorite flower, they're just so simple, but for some reason, I find the most beauty in the simplest things.
8. The thing that motivates me the most is my little sister Megan. She's just so funny and has the biggest heart. She doesn't let anyone bring her down, and she's so tough. Watching her grow up and discover who she is and wants to be has been a real inspiration.
9. My fashion taste is always changing. Whenever I discover something new for myself, it quickly becomes a trend around me. When this happens, I change what I wear because I'm not into following trends as I like to stand out and have my own unique style.
10. I'm actually a very laid back person. In my personal time, I like to be by myself. I truly love music more than most things. It's my biggest passion because I know the power it has to bring people together, no matter what music you prefer. My friends and I bond over music all the time. I love hopping in the car, blasting some jams, and singing so loud without a care in the world.
Like Just Jared Jr. on FB