Tue, 08 September 2020 at 1:29 pm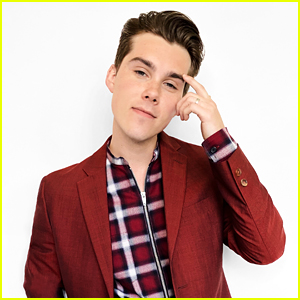 Jeremy Shada will soon be seen on the small screen again in Julie and the Phantoms!
The 23-year-old actor and musician is starring as Reggie, the prankster and funny guy from Sunset Curve, who then becomes one of the Phantoms.
VIDEO: Watch the trailer for Julie and the Phantoms here!!
You might recognize Jeremy's voice from his role as Finn in Adventure Time! He's also voiced the character Lance in the show Voltron: Legendary Defender, and he starred as Tyler Prendergast in the series Mr. Student Body President.
JJJ got to know more about Jeremy with 10 Fun Facts, including that he actually used to be in a band. Check them out below!
1. I was born in Boise, Idaho. My family moved to California when I was 4 years old. I've lived in LA pretty much my whole life, up until last year.
2. I have 3 siblings. 2 older brothers, Josh and Zack, and 1 younger sister Lusi.
3. I started acting when I was 6 years old. I always had a love for TV shows and movies. After getting to see my older brother Zack book his first acting audition and seeing how it all worked on set, I knew that I wanted to act.
4. My first acting role was in an independent movie called No Rules. The movie was all about MMA fighting and I was a martial arts student at the time. I played the younger version of my real-life martial arts instructor in the movie, so my skills came in handy.
5. When I was 8 years old, I started doing a lot of voice over work for animation! I love voice-over and it's opened so many doors for me. I've worked on shows like Adventure Time, Voltron: Legendary Defender, and many more!
Click inside to learn more about Jeremy Shada…
6. My favorite superhero growing up was always Robin. I got to play a version of Robin in Batman: Brave and the Bold. Getting to play my favorite character in voice-over was a dream come true. I would love to play any version of that character again in the future.
7. I worked with Zac Efron on a movie called Miracle Run right before he was cast in High School Musical (which was directed by Kenny Ortega). Kenny is also directing/executive producing our new show Julie and the Phantoms, so I guess I'm following in his footsteps.
8. Before I got to play Reggie (a bass player/singer) in Julie and the Phantoms, I sang co-lead vocals and played bass in the band Make Out Monday. We played punk, pop, rock music. We recorded an EP and a full-length album Visions of Hollywood. We toured a bunch of different Comic-Con's around the world in places like Australia, Germany, the UK, the Philippines, and all around the US.
9. I'm married! I met my wife Carolynn in 2017 and we got engaged on August 17th, 2019. I surprised her with a proposal at Central Park in Manhattan. We got married in March of this year in Florida. She is the most beautiful woman in the world (and she's also my best friend).
10. Carolynn and I have two dogs (Finn and Jake). They're named after the two main characters of Adventure Time (where I played Finn). They're both male Cavachons (which is half Bichon Frise, and half King Cavalier Charles Spaniel), and yes they're very freaking cute!
Like Just Jared Jr. on FB