Thu, 10 September 2020 at 12:24 pm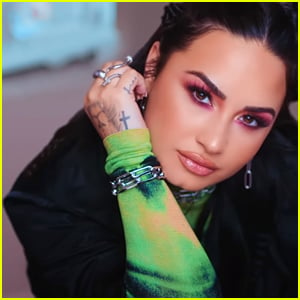 Demi Lovato and Marshmello's new song "OK Not To Be OK" is finally here!
The duo dropped their collab, as well as the music video, on Thursday (September 10), which is also World Suicide Prevention Day.
At the end of the video, there's some info and resources for Hope For The Day, a non-profit movement empowering the conversation on proactive suicide prevention and mental health education.
"I think it's just such an important subject. I think a lot of people, about negative feelings and negative thoughts that are affecting them are kind of scared to bring it up, scared to talk about it," Marshmello told Apple Music about releasing the song on World Suicide Prevention Day.
"When in reality, they're scared because maybe the person won't relate or the person won't understand, when in reality most of time the person that you could bring it up to, will most likely has felt like this or will understand or can relate as well. So I think it's very important to talk about it," he added.
He also opened up about how the collab came about, and how it was years in the making.
"I met Demi, I think four years ago. I actually played a party or something for her a while back and before I went on. It was at a hotel in LA, and I went upstairs and met her before and all that stuff," he said. "And so we've known each other since then. So this collaboration has, because we would always say, 'Hi,' at award shows and all that, so this collaboration has kind of been just in the works, I would say, since we met about four years ago."
"So she did the song and then I got it and it was just kind of piano and that's about it. And so then I was like, how can I create an instrumental, instruments, that compliment the emotion of the song? So in the beginning it's very slow and stuff, so I made the instrumental very slow. And then during the hook, which is the resolve of the song, I kind of picked it up with the energy and it's kind of like a little dance tune," Marshmello added about the actual track.
"I think that was a huge driving force in making the song, as well, as there was only one way the song could be. And so I spent a long time trying to find that exact moment where I was like, 'Oh, okay, this is exactly how the song should sound. This is how it makes me feel.' So it was just kind of like emotion turned to music in a way."

Marshmello & Demi Lovato – 'OK Not To Be OK' Music Video
Like Just Jared Jr. on FB