Thu, 10 September 2020 at 3:00 pm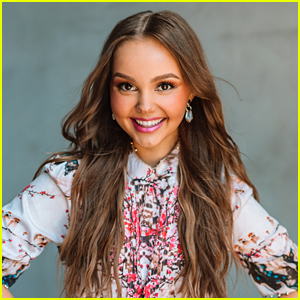 Savannah May is serving up mean girl realness in the new show Julie and the Phantoms!
The 20-year-old actress plays Carrie in the musical series, who is a bit of a diva and thinks she's destined to be the biggest pop star.
Fans can recognize Savannah from starring in Knight Squad, and appearing on Bizaardvark, School of Rock and Cousins For Life, as well as the Lifetime movie The Secret Lives of Cheerleaders.
Savannah actually reunites with her Knight Squad co-star Owen Joyner in Julie and the Phantoms, and she recently dished on working with him again.
"Working with Owen on Knight Squad was such a fun experience. I truly love him. He's like family to me now," she told MEA WorldWide. "And when we wrapped Knight Squad I was really upset we weren't going to be working together anymore, and then fast forward a few months and we booked another series together. It was the coolest thing to be able to go from one series to the next."
"He was one of the first friends I made in LA, we met on the pilot of Knight Squad. Knowing someone for so long definitely has its advantages when it comes to working with them again," Savannah added.
JJJ got to know more about Savannah with our exclusive 10 Fun Facts feature. Check it out below!
Julie and the Phantoms is now streaming on Netflix.
1. I've been dancing since I was 3 1/2. A lot of people who follow me might know I'm a dancer, but I don't think they know just how long I've been dancing for. It was my first passion, and I firmly believe dance helped shape me into the person I am today.
2. I am a true musical theater kid at heart. When I was 11, I started to train with the Humphrey's School of Musical Theater in downtown Houston, Texas. I took singing, dancing, and acting classes and performed in many MANY shows with them for about 5 years. Training with them is where I found my love for musical theater!
3. I have an obsession with disposable cameras! I always have one with me to snap a quick pic of my friends or family. I know that's kind of basic, but I love how the pictures turn out haha!
Click inside for more from Savannah May…
4. My favorite TV show is The Office. Hands down. I watch so many different series, but The Office has been the number one favorite in our household since it was first airing on cable. My mom and dad loved the show so naturally, it was constantly on our TV. The first scene I actually saw from the show was the cold open where Dwight starts the fake fire. Hilarious.
5. I LOVE haunted houses, but I don't like scary movies. I know, it's very strange. Things like the Universal Halloween Horror Nights are so much fun to me, but I will only watch a scary movie if my friends really want to.
6. My favorite musical I've ever been in is a tie between Hairspray and Bring It On. Both shows have such high energy and some pretty incredible dance numbers.
7. Any kind of sweet dessert is an automatic yes from me. I have the biggest sweet tooth.
8. When I was younger, I learned the choreography to the chorus of "Work This Out" from High School Musical 2. I still know it to this day. Same with the "Hoedown Throwdown" from Hannah Montana The Movie.
9. My favorite Disney movie is Tangled. Just the lantern scene alone is so unbelievably magical.
10. My dad wanted to name me 'April May' when I was born… he thought it was clever.
Like Just Jared Jr. on FB