Thu, 10 September 2020 at 6:19 pm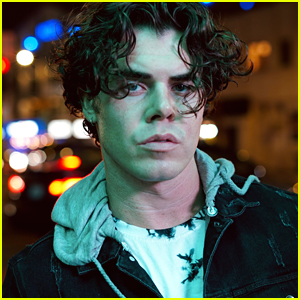 Maximilian Acevedo is co-starring in the brand new movie The Babysitter: Killer Queen!
The actor plays Jimmy, who is described as a 17-year-old handsome, ultimate-bro, in the Netflix sequel, which just premiered TODAY (September 10).
Maximilian dished on working on the film with director McG.
"It was a dream come true. The thrill of working on my first film with such an amazing director was a blessing," he said. "He directed everyone so well it was a harmonious experience. Almost like a Yin & Yang type relationship. Couldn't have been any smoother & More fun than it was & I definitely can't wait to get back on set and do my next project."
He also opened up about how he kept his buff body in shape on set.
"I kept in shape on set from working out every single morning before the shoot or directly after," Maximilian said. "During set I would pump up with pushups or small weights I brought to my trailer. I also would use a pump up bar that was actually used in the movie due to McG loving it when he saw me using it behind the scenes!"
JJJ also got to know Maximilian a bit more about him with 10 Fun Facts. Check it out below!
1. I'm extremely scared of bugs surprisingly lol…because they're so small and unpredictable, and I can't handle that.
2. I've worked out with goats before!
3. I'm painfully honest and will always tell the truth, even if it hurts sometimes.
4. I love lions, they're my favorite animal.
5. I know more Disney songs than most people.
Find out more about Maximilian Acevedo inside…
6. My most prized posession is my Camaro SS aka "The Batmobile."
7. Since I've been on Henry Danger, I'd love to star in my own superhero series.
8. I feel I already have super powers;) but, to Teleport would be my first choice.
9. Sushi is my #1 favorite food of all time. I just tried Krispy Rice by Katsuya, and it was bomb. And Oreos. I just tried Oreo Cookie Pop popcorn and it is awesome.
10. My dream travel destination is Havana, Cuba. My grandparents are from there.
Like Just Jared Jr. on FB