Thu, 10 September 2020 at 3:10 pm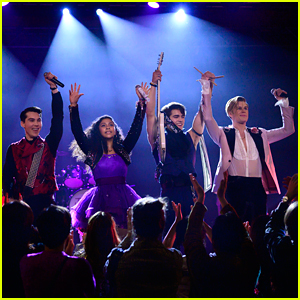 Did you know that the new Netflix musical series Julie and the Phantoms was actually a Brazilian series first??
The original show aired in 2011 in Brazil under the title, Julie e os Fantasmas.
Here's a synopsis, via Wikipedia: Julie (Mariana Lessa), a 15-year-old girl, and three ghosts: Daniel, Felix and Martim. Julie frees the musical ghosts who were trapped in a vinyl record. Shortly thereafter, Julie's life changes completely: she forms a band with the ghosts and starts performing regularly in her city. The friendly ghosts help her deal with daily problems, particularly her passion for music and her love for Nicolas.
While both shows have a similar main plot, IE Julie makes music with a ghost band, the new Kenny Ortega-produced version took a little different approach, focusing on the loss of Julie's mother and her passion for music, which they shared together.
"It's a sweet spot for storytelling in the YA space when someone's got a secret, so we gravitated towards that. The more we dove, we got into the emotion of it and we started thinking about the character of Julie and her journey," co-showrunner Dan Cross told ET. "When you're telling a story, you want the protagonist to have the most growth. So we were like, 'We should lean more into the mother's passing.' We decided it was going to be more than a show about a ghost band, once we really got into Julie's character."
Star Madison Reyes actually got the blessing from the original Julie, Mariana Lessa.
"When she messaged me, that was so crazy," Madison said to ET. "It really made me feel like this was true and I'm not dreaming. Even while we were in the process of filming, I just constantly thought back to who Julie already was for so many people and how I want to continue that legacy and do it right and do the character justice because that's what she deserves. But also, just kind of finding myself through Julie, which is also very interesting because she's this girl who everybody can relate with. Knowing that made it a much more fun experience because I'm excited to see everybody else's reaction and how they start to love Julie as well."
Like Just Jared Jr. on FB