Fri, 11 September 2020 at 11:21 pm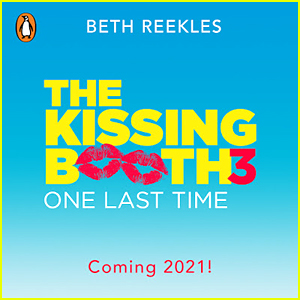 Another The Kissing Booth book is on the way!!
The author of the series, Beth Reekles, announced "The Kissing Booth 3: One Last Time" on Friday (September 11).
"Big news. Big. HUGE. The Kissing Booth 3 will be coming to Netflix in 2021… and so will the novel! TKB3: One Last Time is based on the script of the third movie and will be released in time with the movie next year! (Date TBC)," she shared on Instagram.
"I am SO excited about this, and it was so much fun to write. I was able to work closely with Netflix for TKB3 and though I can't say anything yet on the storyline (sorry!) I will tell you… it's gonna be totally awesome. I really hope you guys love it, too. 💋☀️🍿," Beth added.
While she can't reveal any plot details yet, she did say on her site that the third book will actually be a novelization of the final movie.
"I know it sounds a little strange, but bear with me while I explain it: our brilliant scriptwriter, Vince Marcello (joined by Jay Arnold, for the second and third movies) wrote the script TKB3 so they could film the two movies back-to-back. I was able to give feedback on the script before that, but honestly, I loved it," Beth wrote.
"I'd been able to chat with Vince a few times throughout the whole process over the phone, and pretty early on we talked about how we saw Elle's story unfolding. (Yep, that's purposely vague – sorry, I really can't give anything away about the storyline!)" she continued.
"This was a really weird and wonderful process, but I'll talk about that more in another post. But, I will say now, that it follows on from my books – so instead of Marco and Chloe, you'll be back with Levi and Amanda, for instance," Beth concluded.
You can pre-order the book on Amazon UK or Book Depository, and while it says the book will be out on April 15th, Beth said that the date could change, and that's not necessarily a movie release date, "We've just had to set a date to be able to let you guys pre-order."
In case you missed it, check out the first look teaser at The Kissing Booth 3!
Like Just Jared Jr. on FB