Fri, 18 September 2020 at 12:00 pm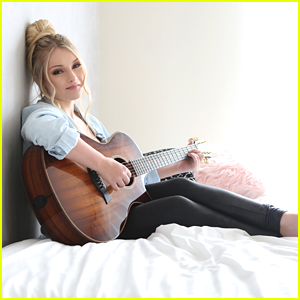 Maddie Logan would rather just "Stay Home" in her brand new music video!
The 21-year-old country-pop singer is exclusively premiering the visual with JJJ.
"'Stay Home' is a country pop track about not wanting to go out and party and have to be something you're not but instead keep on sweatpants and hang out with real friends," Maddie told us about her new song.
Maddie hails from Phoenix, Ariz., and is now based in Nashville and Los Angeles, having first hit the recording studio at the age of nine.
She has since won "Best Country-Pop Emerging Artist" and "Best Country-Pop Song" at the Global Music Awards, as well as the "Country-Pop Solo Artist" Rising Star Music Award and the "Featured Artist" Award for the CMA Fest Fair X!
Since Maddie is a rising star, JJJ also got to know her with 10 Fun Facts, which you can see below!

Maddie Logan – 'Stay Home' Music Video
Click inside to see Maddie Logan's 10 Fun Facts…
1. I LOVE superhero movies.
2. My favorite food is cookie dough (cuz I'm super healthy like that). I'm great at baking, but if I'm making cookies, it's hard to get many in the oven.
3. I'm only 5'0 tall. It sucks not being able to reach the top shelf but I've learned to embrace it, I think it makes me unique. Plus, I've gotten really good at making short jokes about myself.
4. My Jeep is the love of my life.
5. I can sing in front of thousands of people, no problem, but making phone calls makes me so nervous.
6. I own 13 pairs of cowboy boots but always think I need more.
7. I fell in love with country music watching Brad Paisley perform, he's still my biggest inspiration. Him and Miranda Lambert.
8. I'm addicted to online shopping and watching excessive amounts of YouTube videos.
9. I've been writing songs since I was 8, it's definitely my biggest strength.
10. I have a Disneyland pass and know everything there is to know about Disney parks.
Like Just Jared Jr. on FB