Wed, 23 September 2020 at 12:30 pm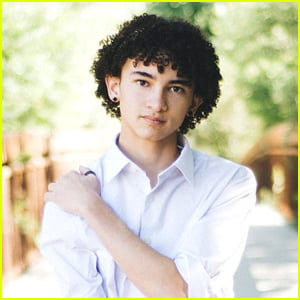 Faly Rakotohavana will soon be starring in the new Disney+ movie Secret Society of Second-Born Royals!
The 17-year-old actor plays Matteo in the upcoming movie, which premieres THIS Friday (September 25).
"My character, Matteo, is a super shy character. He's very meek, as you saw," he told ScreenRant about his character. "And towards the beginning of the film, he is quite unseen by the rest of the group – especially in that first classroom scene. He's doing his best to fit in, but it's hard for him because he is very insecure. He has a lot on his mind, and he's nervous about social settings."
"I feel throughout the movie, he gains a sense of confidence to learn to trust in the people around him; in the rest of the society. He learns to trust his friends, and by the end of the film, you've got this beautifully developed kid that's ready to start a new chapter," Faly added.
You may also recognize Faly from his recurring role of Miles on Disney Channel's Raven's Home.
Get to know more about Faly Rakotohavana with these 10 Fun Facts below!
1. On April 26th, 2003 I was born in Antananarivo, Madagascar. I lived there for six years.
2. My name Faly Rakotohavana is Malagasy. Faly means Happy and Rakotohavana means Mister Family. So my name together is Happy Mr. Family.
3. Since I moved to America, I have lived in three states. I started off in Phoenix, Arizona for three years, then I moved to Midland, Texas for four, and I currently reside in California where I have lived for four years.
4. I am the only boy besides my father in my family of two sisters, three cousins, and my parents. I live with six girls!
5. I have family that live in France, Madagascar, and across the United States so I tend to travel a lot.
Click inside for more fun facts about Faly Rakotohavana…
6. When I was around 6 or 7 years old, I was a huge Justin Bieber fan.
7. I play three instruments! The piano, ukulele, and the violin.
8. When I was in second grade, I had a really bad stutter that I needed to get speech therapy for. I went to my first audition in second grade and couldn't even get through it because of how bad my stutter was.
9. A goal of mine is to one day go skydiving. I love the thrill of my stomach dropping and roller coasters aren't doing it for me anymore.
10. People aren't going to like me for this one but I don't like seafood. I can't even eat it! It makes me nauseous. The first time I ate sushi I ran to the bathroom and threw up all over the bathroom floor.
Like Just Jared Jr. on FB