Wed, 23 September 2020 at 2:00 pm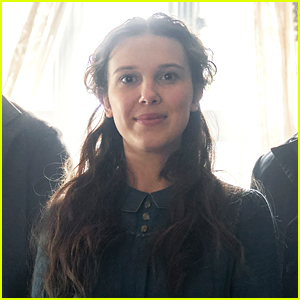 Millie Bobby Brown is celebrating the release of her new movie Enola Holmes!
The 16-year-old actress stars in the title role of the Netflix original, which is a new perspective on the Sherlock Holmes story.

Millie recently shared that she's been keeping this movie a secret for a few years, after having read the books and wanting to play the role.
"I read the books with my sister about five years ago, and we kind of looked at each other and I was like, 'I want to play this.' But I was 11, 12 years old, and the character was 16, so I always knew it would be more of a future ambition for me," Millie told Deadline. "One day, I said to my dad, 'I really think we have to make this film.' He said okay, and he went and found a studio."
She also took to Instagram just ahead of the film's release to talk about it.
"Enola Holmes, woah woah woah. I can't believe i am even allowed to say her name because for the last 3 or 4 years I've kept all of this so quiet," she shared. "Nancy Springer wrote a book series about a young girl finding herself in a chaotic world around her."
"I wanted to bring this story to life because I felt like I was also finding myself in a chaotic world. this film helped me find myself and gave me inspiration to never be afraid to join conversations about my future. OUR future. because of my age or gender," Millie continued. "Enola tells her story the way SHE wants to and that empowering narrative will forever hold a special place in my heart. and my hope is it will live in yours too. Love ALONE ;)"
If you missed it, watch Millie re-enact the first 15 seconds of the Enola Holmes trailer!
Like Just Jared Jr. on FB