Mon, 28 September 2020 at 6:55 pm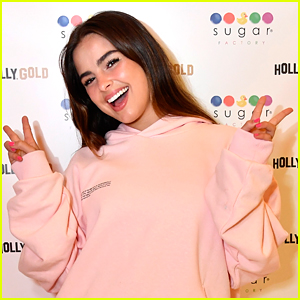 Addison Rae is opening up about making TikTok videos!
The 19-year-old TikTok star is the second most followed person on the platform, and she's sharing her tips.
During the latest episode of her podcast Mama Knows Best, Addison revealed how long it takes her to learn dances, her set up and more.
"TikTok is like a fun way for me to express myself and connect with other people and really just form relationships with everyone," she said. "Obviously, with that comes making a video. Sometimes it's a process, it doesn't always take one time and you're done. Luckily, I've gotten better at it to where like if I know a dance it's super easy to do it one and done but I'm always a little picky."
"For me, usually it'll take me like three to five minutes [to learn a dance]. The same moves are in almost every TikTok dance, it's just about changing the order and then doing the faces I want or having the attitude or whatever fun things like that," Addison added.
As for the behind-the-scenes of trying to make a video, she said sometimes her little brother Lucas "is a little brat," as little brothers can be.
"Nothing ever happens behind the scenes of my TikToks like they're all very fun and we're laughing the whole time. We don't take anything too seriously when posting videos because it's just about being yourself and having fun," Addison shared. "But, I think with our family TikTok, we'll get in fights sometimes because Lucas is a little brat sometimes…"
Addison's tips for making a good TikTok video include "to be yourself, come with new content that people haven't seen before or exciting things that you haven't seen on the app… It's always good to bring something new to the platform because you never know what people want to see or what new things could become a trend."
In case you missed it, see which major celeb liked Addison's first ever TikTok video!
Like Just Jared Jr. on FB