Thu, 01 October 2020 at 7:40 pm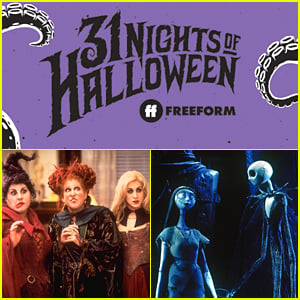 Freeform is kicking off their annual 31 Nights of Halloween event TONIGHT (October 1)!
The network will air a ton of Halloween-themed movies and we have the complete list of programming right here.
Freeform is bringing back some of it's staple films, including Hocus Pocus, Tim Burton's The Nightmare Before Christmas, Hotel Transylvania, and The Addams Family.
In 2019, the Disney-owned channel brought in the original Ghostbusters movies, and this year, the female-led Ghostbusters reboot, starring Melissa McCarthy, Leslie Jones, Kate McKinnon and Kristen Wiig, has also been added to the lineup!
Other new additions include Hotel Transylvania 2 and Hotel Transylvania 3: Summer Vacation, as well as Beetlejuice, The Mummy: Tomb of the Dragon Emperor, The Scorpion King and Boxtrolls.
Freeform will also kick off the month of October with the "Freeform's Halloween Road," a drive-thru experience filled with tricks and treats for Halloween lovers in the Los Angeles area.
Fans can go on a thrilling journey through some of the most nostalgic Halloween movies, including Hocus Pocus, Ghostbusters and Tim Burton's The Nightmare Before Christmas. Freeform will fright and delight guests with themed surprises, interactive experiences, live entertainment, and exciting photo moments—all from the safety of their own vehicles.
The event will take place from October 2-4 at the Heritage Museum Park in Los Angeles. Get more details and book your reservation at 31NightsOfHalloween.com!
Click inside for the full schedule for 31 Nights of Halloween…
Thursday, Oct. 1
12:30 p.m. EDT/PDT – "Willy Wonka & the Chocolate Factory"
3:00 p.m. EDT/PDT – "Tim Burton's Corpse Bride"
5:00 p.m. EDT/PDT – "Casper" (1995)
7:00 p.m. EDT/PDT – "Hotel Transylvania"
9:00 p.m. EDT/PDT – "Hocus Pocus"
12:00 a.m. EDT/PDT – "Willy Wonka & the Chocolate Factory"
Friday, Oct. 2
11:00 a.m. EDT/PDT – "The Goonies"
1:30 p.m. EDT/PDT – "Tim Burton's Corpse Bride"
3:05 p.m. EDT/PDT – "Casper" (1995)
5:10 p.m. EDT/PDT – "Hotel Transylvania"
7:15 p.m. EDT/PDT – "Tim Burton's The Nightmare Before Christmas"
8:55 p.m. EDT/PDT – "Beetlejuice"
12:00 a.m. EDT/PDT – "The Simpsons" – "Treehouse of Horror"
Saturday, Oct. 3
7:00 a.m. EDT/PDT – "Monsters vs. Aliens: Mutant Pumpkins"
7:30 a.m. EDT/PDT – "The Goonies"
10:00 a.m. EDT/PDT – "Ghostbusters" (1984)
12:30 p.m. EDT/PDT – "Ghostbusters II"
3:05 p.m. EDT/PDT – "Beetlejuice"
5:10 p.m. EDT/PDT – "Hocus Pocus"
7:20 p.m. EDT/PDT – "The Addams Family" (1991)
9:25 p.m. EDT/PDT – "Addams Family Values"
11:30 p.m. EDT/PDT – "The Craft"
Sunday, Oct. 4
7:00 a.m. EDT/PDT – "Ghostbusters" (1984)
9:30 a.m. EDT/PDT – "Ghostbusters II"
12:00 p.m. EDT/PDT – "Willy Wonka & the Chocolate Factory"
2:05 p.m. EDT/PDT – "Decorating Disney: Halloween Magic"
3:05 p.m. EDT/PDT – "Casper" (1995)
5:10 p.m. EDT/PDT – "The Addams Family" (1991)
7:15 p.m. EDT/PDT – "Addams Family Values"
9:20 p.m. EDT/PDT – "Hocus Pocus"
11:30 p.m. EDT/PDT – "Sleepy Hollow" (1999)
Monday, Oct. 5
11:30 a.m. EDT/PDT – "Casper" (1995)
1:30 p.m. EDT/PDT – "Sleepy Hollow" (1999)
4:00 p.m. EDT/PDT – "Ghostbusters" (1984)
6:30 p.m. EDT/PDT – "Ghostbusters II"
9:00 p.m. EDT/PDT – "Beetlejuice"
12:00 a.m. EDT/PDT – "Boxtrolls"
Tuesday, Oct. 6
11:00 a.m. EDT/PDT – "Charlie and the Chocolate Factory"
1:30 p.m. EDT/PDT – "Ghostbusters" (1984)
4:00 p.m. EDT/PDT – "Ghostbusters II"
6:30 p.m. EDT/PDT – "Beetlejuice"
8:30 p.m. EDT/PDT – "Hotel Transylvania"
12:00 a.m. EDT/PDT – "Tim Burton's Corpse Bride"
Wednesday, Oct. 7
11:00 a.m. EDT/PDT – "Decorating Disney: Halloween Magic"
12:00 p.m. EDT/PDT – "Tim Burton's Corpse Bride"
2:00 p.m. EDT/PDT – "Matilda"
4:00 p.m. EDT/PDT – "Hotel Transylvania"
6:00 p.m. EDT/PDT – "The Simpsons" – "Treehouse of Horror"
12:00 a.m. EDT/PDT – "Jumanji" (1995)
Thursday, Oct. 8
12:00 p.m. EDT/PDT – "Matilda"
2:00 p.m. EDT/PDT – "Jumanji" (1995)
4:30 p.m. EDT/PDT – "Goosebumps" (2015)
7:00 p.m. EDT/PDT – "The Addams Family" (1991)
9:00 p.m. EDT/PDT – "Addams Family Values"
12:00 a.m. EDT/PDT – "Warm Bodies"
Friday, Oct. 9
11:30 a.m. EDT/PDT – "The Mummy" (1999)
2:20 p.m. EDT/PDT – "Goosebumps" (2015)
4:45 p.m. EDT/PDT – "The Addams Family" (1991)
6:50 p.m. EDT/PDT – "Addams Family Values"
8:55 p.m. EDT/PDT – "Hocus Pocus"
12:00 a.m. EDT/PDT – "The Simpsons" – "Treehouse of Horror"
Saturday, Oct. 10
7:00 a.m. EDT/PDT – "The Mummy" (1999)
10:00 a.m. EDT/PDT – "The Mummy Returns"
1:05 p.m. EDT/PDT – "The Simpsons" – "Treehouse of Horror"
3:35 p.m. EDT/PDT – "Casper" (1995)
5:40 p.m. EDT/PDT – "Hotel Transylvania"
7:45 p.m. EDT/PDT – "Hotel Transylvania 2" –Freeform Premiere
9:50 p.m. EDT/PDT – "Hotel Transylvania 3: Summer Vacation" –Freeform Premiere
12:00 a.m. EDT/PDT – "Tim Burton's Corpse Bride"
Sunday, Oct. 11
7:00 a.m. EDT/PDT – "The Mummy Returns"
10:05 a.m. EDT/PDT – "Casper" (1995)
12:10 p.m. EDT/PDT – "Tim Burton's Corpse Bride"
1:50 p.m. EDT/PDT – "Tim Burton's The Nightmare Before Christmas"
3:30 p.m. EDT/PDT – "Hotel Transylvania"
5:35 p.m. EDT/PDT – "Hotel Transylvania 2"
7:40 p.m. EDT/PDT – "Hotel Transylvania 3: Summer Vacation"
9:50 p.m. EDT/PDT – "Twitches"
11:55 p.m. EDT/PDT – "Twitches Too"
Monday, Oct. 12
7:00 a.m. EDT/PDT – "The Mummy: Tomb of the Dragon Emperor" – Freeform Premiere
12:30 p.m. EDT/PDT – "Halloweentown"
2:30 p.m. EDT/PDT – "Halloweentown II: Kalabar's Revenge"
4:30 p.m. EDT/PDT – "Scared Shrekless"
5:00 p.m. EDT/PDT – "Shrek"
7:00 p.m. EDT/PDT – "The Addams Family" (1991)
9:00 p.m. EDT/PDT – "Addams Family Values"
12:00 a.m. EDT/PDT – "The Scorpion King" – Freeform Premiere
Tuesday, Oct. 13
11:00 a.m. EDT/PDT – "The Goonies"
1:35 p.m. EDT/PDT – "Scared Shrekless"
2:05 p.m. EDT/PDT – "Shrek"
4:10 p.m. EDT/PDT – "The Addams Family" (1991)
6:15 p.m. EDT/PDT – "Addams Family Values"
8:20 p.m. EDT/PDT – "Hocus Pocus"
12:00 a.m. EDT/PDT – "Casper" (1995)
Wednesday, Oct. 14
1:00 p.m. EDT/PDT – "Casper" (1995)
3:00 p.m. EDT/PDT – "The Simpsons" – "Treehouse of Horror"
9:00 p.m. EDT/PDT – "Beetlejuice"
12:00 a.m. EDT/PDT – "Boxtrolls"
Thursday, Oct. 15
7:00 a.m. EDT/PDT – "Scream 3"
11:00 a.m. EDT/PDT – "Jumanji" (1995)
1:30 p.m. EDT/PDT – "Beetlejuice"
3:30 p.m. EDT/PDT – "Scream"
6:00 p.m. EDT/PDT – "Scream 2"
8:30 p.m. EDT/PDT – "The Craft"
12:00 a.m. EDT/PDT – "Jumanji" (1995)
Friday, Oct. 16
11:30 a.m. EDT/PDT – "The Craft"
2:00 p.m. EDT/PDT – "Matilda"
4:00 p.m. EDT/PDT – "Tim Burton's Corpse Bride"
6:00 p.m. EDT/PDT – "Toy Story of TERROR!" (Disney-Pixar)
6:30 p.m. EDT/PDT – "Monsters, Inc." (Disney-Pixar)
8:30 p.m. EDT/PDT – "Monsters, University" (Disney-Pixar)
12:00 a.m. EDT/PDT – "Toy Story of TERROR!" (Disney-Pixar)
12:30 a.m. EDT/PDT – "The Simpsons" – "Treehouse of Horror"
Saturday, Oct. 17
7:00 a.m. EDT/PDT – "Tim Burton's Corpse Bride"
8:55 a.m. EDT/PDT – "Matilda"
10:55 a.m. EDT/PDT – "Tim Burton's The Nightmare Before Christmas"
12:35 p.m. EDT/PDT – "Ghostbusters" (1984)
3:05 p.m. EDT/PDT – "Ghostbusters II"
5:40 p.m. EDT/PDT – "Beetlejuice"
7:45 p.m. EDT/PDT – "Hocus Pocus"
9:55 p.m. EDT/PDT – "Halloweentown"
12:00 a.m. EDT/PDT – "Halloweentown II: Kalabar's Revenge"
Sunday, Oct. 18
7:00 a.m. EDT/PDT – "Willy Wonka & the Chocolate Factory"
9:30 a.m. EDT/PDT – "The Simpsons" – "Treehouse of Horror"
11:00 a.m. EDT/PDT – "Twitches"
1:05 p.m. EDT/PDT – "Twitches Too"
3:05 p.m. EDT/PDT – "Beetlejuice"
5:10 p.m. EDT/PDT – "Hocus Pocus"
7:20 p.m. EDT/PDT – "The Addams Family" (1991)
9:25 p.m. EDT/PDT – "Addams Family Values"
11:30 p.m. EDT/PDT – "Gremlins"
Monday, Oct. 19
11:00 a.m. EDT/PDT – "Matilda"
1:00 p.m. EDT/PDT – "Gremlins"
3:30 p.m. EDT/PDT – "Casper" (1995)
5:30 p.m. EDT/PDT – "The Addams Family" (1991)
7:30 p.m. EDT/PDT – "Addams Family Values"
9:30 p.m. EDT/PDT – "Tim Burton's The Nightmare Before Christmas"
12:00 a.m. EDT/PDT – "Matilda"
Tuesday, Oct. 20
11:00 a.m. EDT/PDT – "Willy Wonka & the Chocolate Factory"
1:00 p.m. EDT/PDT – "Casper" (1995)
3:00 p.m. EDT/PDT – "Sleepy Hollow" (1999)
5:30 p.m. EDT/PDT – "Ghostbusters" (1984)
8:00 p.m. EDT/PDT – "Ghostbusters II"
12:00 a.m. EDT/PDT – "Willy Wonka & the Chocolate Factory"
Wednesday, Oct. 21
11:00 a.m. EDT/PDT – "Sleepy Hollow" (1999)
1:30 p.m. EDT/PDT – "Ghostbusters" (1984)
4:00 p.m. EDT/PDT – "Ghostbuster II"
6:30 p.m. EDT/PDT – "The Simpsons" – "Treehouse of Horror"
12:00 a.m. EDT/PDT – "The Simpsons" – "Treehouse of Horror"
Thursday, Oct. 22
11:00 a.m. EDT/PDT – "Tim Burton's Corpse Bride"
12:35 p.m. EDT/PDT – "Jumanji" (1995)
2:35 p.m. EDT/PDT – "The Mummy" (1999)
5:45 p.m. EDT/PDT – "The Mummy Returns"
8:55 p.m. EDT/PDT – "Hocus Pocus"
12:00 a.m. EDT/PDT – "Tim Burton's Corpse Bride"
Friday, Oct. 23
11:00 a.m. EDT/PDT – "Jumanji" (1995)
1:30 p.m. EDT/PDT – "Scream"
4:00 p.m. EDT/PDT – "Scream 2"
6:30 p.m. EDT/PDT – "Beetlejuice"
8:30 p.m. EDT/PDT – "Sleepy Hollow" (1999)
12:00 a.m. EDT/PDT – "The Simpsons" – "Treehouse of Horror"
Saturday, Oct. 24
7:00 a.m. EDT/PDT – "Decorating Disney: Halloween Magic"
8:00 a.m. EDT/PDT – "Halloweentown"
10:05 a.m. EDT/PDT – "Halloweentown II: Kalabar's Revenge"
12:05 p.m. EDT/PDT – "Beetlejuice"
2:10 p.m. EDT/PDT – "Sleepy Hollow" (1999)
4:40 p.m. EDT/PDT – "Hocus Pocus"
6:50 p.m. EDT/PDT – "The Addams Family" (1991)
8:55 p.m. EDT/PDT – "Addams Family Values"
11:00 p.m. EDT/PDT – "Ghostbusters" (2016) – Freeform Premiere
Sunday, Oct. 25
7:00 a.m. EDT/PDT – "Tim Burton's Corpse Bride"
9:00 a.m. EDT/PDT – "Ghostbusters" (1984)
11:30 a.m. EDT/PDT – "The Craft"
2:00 p.m. EDT/PDT – "The Addams Family" (1991)
4:05 p.m. EDT/PDT – "Addams Family Values"
6:10 p.m. EDT/PDT – "Ghostbusters" (2016)
9:20 p.m. EDT/PDT – "Hocus Pocus"
11:30 p.m. EDT/PDT – "The Craft"
Monday, Oct. 26
11:00 a.m. EDT/PDT – "Tim Burton's Corpse Bride"
1:00 p.m. EDT/PDT – "Casper" (1995)
3:00 p.m. EDT/PDT – "Twitches"
5:00 p.m. EDT/PDT – "Twitches Too"
7:00 p.m. EDT/PDT – "Hotel Transylvania 2"
9:00 p.m. EDT/PDT – "Hotel Transylvania 3: Summer Vacation"
12:00 a.m. EDT/PDT – "The Simpsons" – "Treehouse of Horror"
Tuesday, Oct. 27
11:00 a.m. EDT/PDT – "Casper" (1995)
1:00 p.m. EDT/PDT – "Scared Shrekless"
1:30 p.m. EDT/PDT – "Jumanji" (1995)
4:00 p.m. EDT/PDT – "Hotel Transylvania 2"
6:00 p.m. EDT/PDT – "Hotel Transylvania 3: Summer Vacation"
8:00 p.m. EDT/PDT – "Hocus Pocus"
12:00 a.m. EDT/PDT – "The Simpsons" – "Treehouse of Horror"
Wednesday, Oct. 28
12:00 p.m. EDT/PDT – "Jumanji" (1995)
2:30 p.m. EDT/PDT – "Tim Burton's Corpse Bride"
4:30 p.m. EDT/PDT – "Matilda"
6:30 p.m. EDT/PDT – "Monsters, Inc." (Disney-Pixar)
8:30 p.m. EDT/PDT – "Monsters University" (Disney-Pixar)
12:00 a.m. EDT/PDT – "The Simpsons" – "Treehouse of Horror"
Thursday, Oct. 29
12:00 p.m. EDT/PDT – "Ghostbusters" (1984)
2:30 p.m. EDT/PDT – "Ghostbusters II"
5:00 p.m. EDT/PDT – "Tim Burton's The Nightmare Before Christmas"
6:30 p.m. EDT/PDT – "Sleepy Hollow" (1999)
9:00 p.m. EDT/PDT – "Beetlejuice"
12:00 a.m. EDT/PDT – "The Simpsons" – "Treehouse of Horror"
Friday, Oct. 30
11:00 a.m. EDT/PDT – "Decorating Disney: Halloween Magic"
12:05 p.m. EDT/PDT – "Sleepy Hollow" (1999)
2:35 p.m. EDT/PDT – "Beetlejuice"
4:40 p.m. EDT/PDT – "Hocus Pocus"
6:50 p.m. EDT/PDT – "The Addams Family" (1991)
8:55 p.m. EDT/PDT – "Addams Family Values"
12:00 a.m. EDT/PDT – "The Simpsons" – "Treehouse of Horror"
Saturday, Oct. 31
7:00 a.m. EDT/PDT – "Twitches"
9:00 a.m. EDT/PDT – "Twitches Too"
11:00 a.m. EDT/PDT – "Halloweentown"
1:00 p.m. EDT/PDT – "Halloweentown II: Kalabar's Revenge"
3:00 p.m. EDT/PDT – "Hocus Pocus"
5:10 p.m. EDT/PDT – "The Addams Family" (1991)
7:15 p.m. EDT/PDT – "Addams Family Values"
9:20 p.m. EDT/PDT – "Hocus Pocus"
11:30 p.m. EDT/PDT – "Ghostbusters" (1984)
Like Just Jared Jr. on FB