Thu, 08 October 2020 at 7:52 pm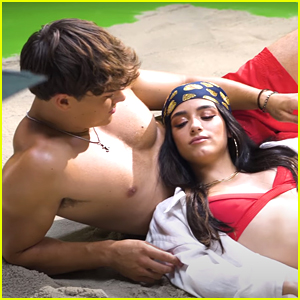 Dixie D'Amelio is dishing on casting Noah Beck in her "Be Happy" remix music video!
The first episode of her new podcast 2 Chix with sister Charli premiered on Thursday (October 8), and they got right down to the juicy dish.
During the podcast, they talked about the music video, which features Noah as Dixie's love interest, and they of course shared a kiss.
Charli asked the hard hitting question about why Dixie chose him for the video, and he actually wasn't even an option at first.
"They gave me a lot of options…" Dixie said, before Charli interrupted, "Was he an original option?"
"Yeah… no he was… no," Dixie replied, with Charli saying, "No, he wasn't on that list."
"Okay, well, I'm a very awkward person, and I had to this scene, like up close and personal to a boy," Dixie clarified. "I picked him because I'm friends with him and I just thought it would be easier than some random boy, because I definitely would not be able to do that."
"It was fun. I'm glad I did it with him, because, I don't know. I would be so awkward talking to some random," she continued. "I'm even awkward around my friends sometimes, so it would've been hard doing it with anyone else."
In case you missed it, after much speculation, and obvious flirting and chemistry, Dixie and Noah finally confirmed their relationship status.
Like Just Jared Jr. on FB