Sun, 11 October 2020 at 4:05 pm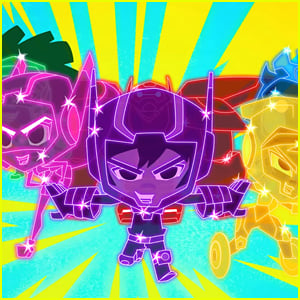 We have a brand new clip from an upcoming new episode of Big Hero 6 The Series!
The video was debuted at 2020 New York Comic Con on Sunday (October 11) during a panel with the show's cast and creative team.
In the clip from "Big Chibi 6," we get a glimpse of adorable, yet evil Chibi-versions of the Big Hero 6 team, as well as returning guest stars Hayley Tju as Karmi, Sean Giambrone as Richardson Mole and Will Friedle as Hardlight.
The full upcoming episode features two parts. In "Friendly Face" – When Krei wants to sell the Mayor an automated fleet of shuttle vehicles, Honey Lemon suggests giving the shuttles a friendly face and an upbeat personality. Part two is "Big Chibi 6" – Hardlight crashes Karmi's autograph session.
The new episode of Big Hero 6 The Series premieres TOMORROW (October 12) at 7:30pm ET/PT on Disney XD and DisneyNOW.
In case you missed it, find out some of the other guest stars that are appearing throughout Big Hero 6 The Series season three!

Big Chibi 6 Collector's Edition | NYCC Sneak Peek
Like Just Jared Jr. on FB