Sun, 11 October 2020 at 4:10 pm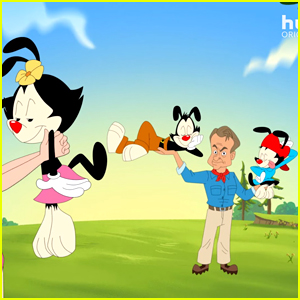 Hulu has revealed the first look at the upcoming reboot of Animaniacs!
The video debuted during a panel at the 2020 New York Comic Con on Sunday (October 11).
Here's a synopsis: The Warner brothers, Yakko and Wakko, and the Warner sister, Dot — three inseparable, irascible siblings — have a great time wreaking havoc and mayhem in the lives of everyone they meet.
They have been locked away in the Warner Bros. water tower for a very long time, but they have found a way to escape. And escape they do — every day! Causing chaos and comic confusion, Yakko, Wakko and Dot run loose in the city, turning the world into their personal playground.
In the newly released sneak peek, they also revealed that Pinky and the Brain will also be back for the reboot!
Animaniacs premieres on Hulu on November 20th with 13 brand new episodes.

'Animaniacs' 'Jurassic Park' Clip
Like Just Jared Jr. on FB