Mon, 12 October 2020 at 4:46 pm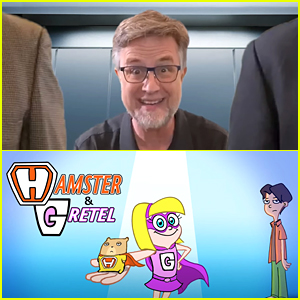 Phineas and Ferb's Dan Povenmire has a brand new show coming to Disney Channel!
The network has given the greenlight to the Phineas and Ferb co-creator's new program Hamster & Gretel, and has ordered it to series.
The new show is based off of Dan's real life relationship with his younger sister, and he assures that it will be filled with music, action and comedy.
Hamster & Gretel introduces Kevin and younger sister Gretel, who are about to be bestowed super powers by space aliens. But something goes awry, and it's Gretel and her pet hamster (named Hamster) who suddenly have new abilities.
Now, protective older brother Kevin must figure out how to work with both Gretel and her pet Hamster to protect their city from mysterious dangers.
"My sister is 10 years younger than me, and I had never seen our kind of sibling age gap portrayed in a cartoon so I thought it would be an interesting dynamic to explore," Dan said in a statement.
"The show focuses on how their relationship shifts due to her new super powers and how they both navigate through it," he added. "Of course, it is also about cartoon villains, aliens, a talking Hamster with super powers, and a lot of comedy."
Check out Dan Povenmire's elevator pitch for Hamster & Gretel now!

'Hamster & Gretel' Elevator Pitch
Like Just Jared Jr. on FB