Tue, 13 October 2020 at 2:22 pm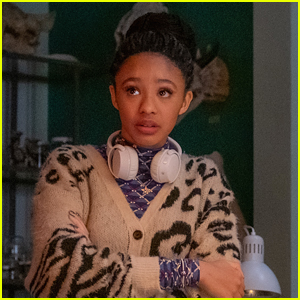 Troy Leigh-Anne Johnson can soon be seen the new Netflix movie A Babysitter's Guide To Monster Hunting!
The young actress stars as Berna Vincent in the upcoming Halloween film. Check out the trailer here!
Here's a synopsis: When high school freshman Kelly Ferguson (Tamara Smart) reluctantly agrees to babysit Jacob Zellman (Ian Ho) on Halloween, the last thing she expects is to be recruited into an international secret society of babysitters who protect kids with special powers from monsters.
In order to keep Jacob safe from harm, Kelly teams with no-nonsense chapter Vice President Liz Lerue (Oona Laurence), tech genius Berna Vincent (Johnson), creature expert Cassie Zhen (Lynn Masako Cheng) and potions master Curtis Critter (Ty Consiglio) to defeat a Boogeyman known as "The Grand Guignol" (Tom Felton), a glamorous witch named "Peggy Drood" (Indya Moore) and their legion of mysterious monsters.
You may also recognize Troy Leigh-Anne Johnson from her role as Kendra in season three of On My Block.
JJJ got to know more about her with 10 Fun Facts. Check it out below and be sure to catch A Babysitter's Guide to Monster Hunting on Netflix THIS Thursday (October 15)!
1. I first started acting in theatre!
2. I'm completely obsessed with anime. I could re-watch Soul Eater or Noragami a million and one times.
3. Reading is my favorite thing to do! Classics, fantasy, thrillers, YA, I'll read anything and everything.
4. I've been a vegetarian for 5 years and I am loving it.
5. I have 4 dogs and honestly want like 10 more.
Click inside to learn more about Troy Leigh-Anne Johnson…
6. I'm a total musical theatre geek! If you hang out with me long enough you will 100% catch me singing show tunes and I'll expect you to join in.
7. Orcas are my favorite animals. They're incredibly intelligent and absolutely stunning. They deserve so much love.
8. I love the Dark Academia aesthetic. It's beautiful.
9. I collect mugs! I have like a million it's actually getting pretty insane.
10. I love Jordan Peele films! He's one of my favorite writers/directors.
Like Just Jared Jr. on FB