Tue, 13 October 2020 at 11:00 am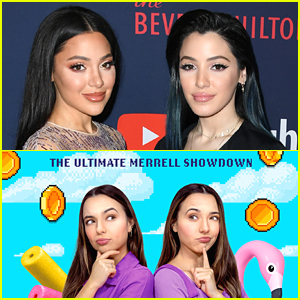 There are new shows coming to AwesomenessTV from your favorite sets of twins!
JJJ is excited to exclusively reveal that Niki & Gabi will be debuting their brand new series Twintervention, while the Merrell Twins will premiere their show Mystery Twin Bin.
In Twintervention, Niki and Gabi's relationship will be put to the test and one of them will be crowned "Sister of the Year." Coached by a panel of experts with visits from surprise guests, Niki and Gabi will have to face their problems to compete in a series of challenges that will either make or break their bond as sisters.
Mystery Twin Bin will see the Merrell Twins in for the surprise of their lives as Awesomeness sends Vanessa and Veronica a mystery bin containing clues and items for that day's challenge. It will be twin vs. twin as they compete to win across six episodes.
Vanessa and Veronica will also be back for season three of Twin My Heart, where they will help new bachelor Nate Wyatt, from TikTok's Hype House, find his one true love through a series of competitions and challenges.
Look out for Mystery Twin Bin premiering THIS Saturday (October 17), Twin My Heart on November 28th, and Twintervention on December 11th, all on AwesomenessTV's YouTube channel!
Like Just Jared Jr. on FB