Fri, 16 October 2020 at 8:54 pm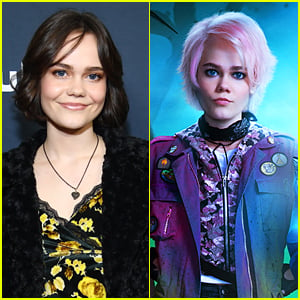 Oona Laurence is nearly unrecognizable in her new movie A Babysitter's Guide To Monster Hunting!
The 18-year-old actress stars in the new Netflix movie, which is now streaming, as Liz Lerue, the chapter Vice President of an international secret society of babysitters.
A Babysitter's Guide To Monster Hunting follows high school freshman Kelly Ferguson (Tamara Smart) when she reluctantly agrees to babysit Jacob Zellman (Ian Ho) on Halloween, and the last thing she expects is to be recruited into an international secret society of babysitters who protect kids with special powers from monsters.
In order to keep Jacob safe from harm, Kelly teams with no-nonsense chapter Vice President Liz Lerue (Laurence), tech genius Berna Vincent (Troy Leigh-Anne Johnson), creature expert Cassie Zhen (Lynn Masako Cheng) and potions master Curtis Critter (Ty Consiglio) to defeat a Boogeyman known as "The Grand Guignol" (Tom Felton), a glamorous witch named "Peggy Drood" (Indya Moore) and their legion of mysterious monsters.
Oona started her career out as she originated the role of Matilda, alongside three other girls, in the musical Matilda when it moved to Broadway in 2013. She then went on to make appearances in film and television, including Law & Order: SVU, Orange Is The New Black, Blindspot, Disney's Pete's Dragon, Big Time Adolescence and more!
JJJ got to know more about the actress personally with 10 Fun Facts about her. Check it out below:
1. I can make really good vegan gourmet ramen.
2. I am a plant mom.
3. I like to watch ASMR to go to sleep.
4. My favorite food is probably ramen or peanut butter crackers.
5. My favorite album of all time is Ctrl by Sza.
Click inside for more from Oona Laurence…
6. I have two younger sisters, who are also actors themselves. Jete Laurence (Pet Sematary) and Aimee Laurence (The Path)!
7. One time I saw Leonardo DiCaprio on a plane. I didn't go up to him because I was scared to but I regret that I didn't.
8. One of my favorite Halloween costumes was when I was Joan Jett, which coincidentally Liz LeRue's look was based off of.
9. My dream director to work with would be Wes Anderson, or Greta Gerwig.
10. When I was a kid, my dream co stars were Steve Carrell and Emma Stone.
Like Just Jared Jr. on FB