Wed, 21 October 2020 at 12:48 pm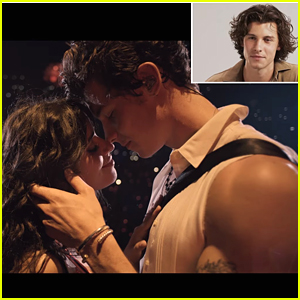 Shawn Mendes sat down to watch the trailer for his new documentary In Wonder, and reacted to some of the moments in the film.
The 22-year-old musician kicked it off by sharing that is weird to see himself showering in the beginning.
"It's definitely a weird thing to see yourself in the shower. I knew it was happening, it's not like I was taking a shower and I didn't know there was a camera there," he said. "It's definitely weird.
The first time Camila Cabello popped up in the trailer, Shawn let out a little smile. In another moment, pictured here, he mentioned that it was his favorite shot.
"I love that shot," Shawn said of when him and Camila are sharing a moment on stage.
"Kind of feels like I'm on this weird, emotional journey watching that," he said at the end. "I think everyone will be surprised at just how much footage we captured, and how broad the story goes. The trailer is just a touch of how vulnerable the entire documentary is, but you also still get that feeling that this is not just all about how amazing it is to be a pop star. There's this real kind of depth of heart in it."

Shawn Mendes Reacts to 'In Wonder' Trailer
Like Just Jared Jr. on FB