Thu, 22 October 2020 at 4:32 pm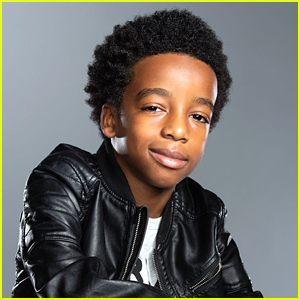 Jahzir Bruno is a name you need to get familiar with!
The young actor is really kicking off his movie career with two pretty big films, and first up is The Witches, out TODAY (October 22) on HBO Max.
Jahzir plays a young orphaned boy who, in late 1967, goes to live with his loving Grandma (Octavia Spencer) in the rural Alabama town of Demopolis.
As the boy and his grandmother encounter some deceptively glamorous but thoroughly diabolical witches, she wisely whisks our young hero away to an opulent seaside resort. Regrettably, they arrive at precisely the same time that the world's Grand High Witch (Anne Hathaway) has gathered her fellow cronies from around the globe—undercover—to carry out her nefarious plans. Check out the trailer here!
Jahzir will then star in The Christmas Chronicles 2, alongside Darby Camp, Goldie Hawn and Kurt Russell. The holiday film is out on November 25th on Netflix. Watch the recently released trailer right here!
JJJ got to know the rising star with our 10 Fun Facts. Check them out below:
1. I have one sibling named Mireya. She is 2 years old and I absolutely adore her.
2. My favorite food is hot wings. The hotter the better!
3. I was 8 when I got to work with Brian Tyree Henry on the FX tv show Atlanta. It was my first professional speaking role as an actor.
4. My dream is to work with Samuel L Jackson.
5. I love to swim and go to big amusement parks like Six Flags Over Georgia and Disney World.
Click inside for more fun facts…
6. I think Ryan Coogler is amazing director. I hope I can work with him one day.
7. I'd love to star in a Marvel movie.
8. My favorite athlete is DeMar DeRozan.
9. When not in school, I love to play Xbox video games with my friends.
10. My favorite subjects in school are reading and language arts. Both support what I love doing best… ACTING!
Like Just Jared Jr. on FB