Fri, 23 October 2020 at 5:57 pm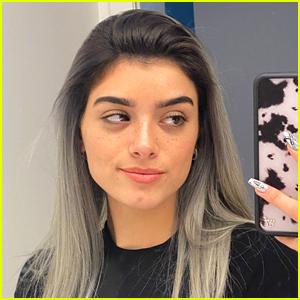 Dixie D'Amelio has moved out on her own!
The 19-year-old singer and TikTok star opened up about moving out of her family's house in a new podcast episode.
"I wanted to start off by talking about, um, a new place that Dixie lives… 'cause apparently she decided she was allowed to move out and I wouldn't be myself," Charli said on 2 Chix. "Which I personally do not think is okay, but I finally got to see her new little apartment and it's, first of all beautiful and she has a lot of snacks, but I don't know. I don't get invited over that much."
"I invite you over all the time and you've only come once, so that's your fault," Dixie responded. "I really don't want to have anyone over yet because I'm not done moving in. I mean, all my stuff is there, it's just in boxes and messy."
"Living alone is really fun, but at the same time, it's scary because it gets so quiet. I have no one to talk to, but also I like that. I don't know how I feel about it," she added. "I think also, once I get all my stuff together… I'm just very anxious being home 'cause my place is a mess, because I don't have anywhere to put anything, but once I get that figured out, it's going to be a lot easier I think."
The girls also talked about Halloween, and Dixie said that she's not really a big fan of the annual night.
"I don't think I'm doing anything this year. I actually don't like Halloween," Dixie shared. "I just don't like Halloween 'cause it's just… there's a lot of stress that goes into it, and a lot of preparation and stress to walk around for three hours. I just don't like the idea of that."
"I mean, it's fun for little kids. I love having kids come to my door and handing out candy, that was fun last year," she continued. "Besides that, I don't know, just not a fan."
Like Just Jared Jr. on FB