Tue, 27 October 2020 at 8:46 pm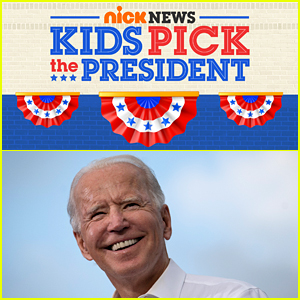 The kids of America have spoken and voted on who they want to be the next President of the United States of America!
Nickelodeon ran a poll from October 20th to October 26th, where the youth got to vote on their favorite candidate.
The results were revealed during Tuesday evening's (October 27) Nick News: Kids Pick The President special, which was hosted by Keke Palmer, and featured quite a few celebrity appearances!
Joe Biden received the majority of votes at 53% over his opponent, the incumbent, President Donald Trump with 47%.
Almost 90k votes were cast in the kids' poll, with guidelines that allow for one vote to be counted per household device so that multiple children and individuals per residence may exercise their vote. Nickelodeon has been running the "Kid's Vote" poll since 1988, for the last nine presidential election cycles!
According to Nickelodeon, they "detected cheating on Wednesday, Oct. 21, when threads on online forums began discussing corrupting the Kids Pick the President site with fraudulent votes. Subsequently, more than 130,000 bot-generated votes were detected. Nickelodeon utilized a voter certification tool to identify these votes and to remove them, ensuring that only individually placed votes counted toward the total."
"Though kids are not of an age to vote, Kids Pick the President is a platform where their voices do count, and they deserve to be heard. And just as kids value honesty and fairness, so do we at Nickelodeon," the network said in a statement. "Therefore, out of respect for kids everywhere and in the spirit of civic responsibility, we present the name of the winner based on votes cast fairly and within our stated guidelines of one vote counted per household device."
In case you missed it, this major celebrity just endorsed Joe Biden for President, even though they can't vote in the election!
Like Just Jared Jr. on FB