Wed, 28 October 2020 at 2:50 pm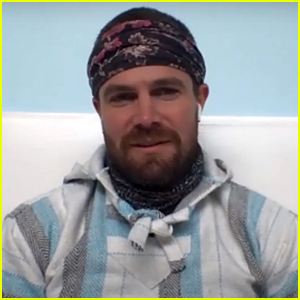 Stephen Amell is opening up about his recent bought with Coronavirus.
The Arrow actor, who will now star in the new Starz series Heels, spoke out publicly for the first time about testing positive earlier this month.
"I tested positive for COVID-19, geez, 15 days ago. Two weeks ago, Monday. Today being Tuesday, October 20th," he said on the Inside of You w/Michael Rosenbaum podcast. "The thing is that, I um, I had already been isolated from work because there was a positive test on the show, and I repeatedly tested negative through the week, but ultimately, for whatever reason came down with symptoms the following Monday, got tested on the Tuesday."
"I've actually been cleared to go back to work since Friday, this past Friday, but they didn't know if I would be cleared for sure until basically this Wednesday, so they have been building other stuff into the schedule," Stephen added.
"I woke up and it was the strangest thing. My f–kin' right ear was plugged, and I was hot and cold. I never ran a fever," he shared about his symptoms and how he knew something was up. "I'd say that I've started to notice something on Monday, but didn't have a test result… Those first couple of days, they just really sucked."
Stephen said he had the sweats, dizziness and loss of appetite. He also added that his show only shut down production for one day.
"When I got the positive test, for me it became holy f–k. I just destroyed this show because I'm number one on on the call sheet and I work every day more or less… I'm in my head going, 'S–t, they're going to have to shut down the production. We're not yet done with the first block of two episodes. Did I just ruin this?'" he said.
"I'm incredibly fortunate that if I have to go into isolation, I have a job waiting for me on the other side," he continued. "Again, thank you very much to Starz for being so supportive and what they did over the past three weeks, the show shut down for one day. What they were able to do is mind boggling, quite frankly. It just goes to show that they were prepared for it, but not everyone has the luxury of taking two weeks off. In fact, most people don't. We are in the midst of a global pandemic and times are tough for a lot of people."

Stephen Amell on 'Inside Of You'
Like Just Jared Jr. on FB