Mon, 02 November 2020 at 7:05 pm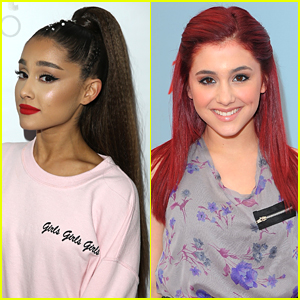 Ariana Grande is opening up about her hair and her song "my hair" from her new album Positions!
The 27-year-old went into detail about her locks and how it inspired her new track.
"It definitely is [personal], especially when your hair kind of is something that you use to differentiate, you know what I mean?" she said on the Zach Sang Show. "It's kind of like the red was Cat, and that was very much a character, and it was very much a portion of my life that I love and I am so grateful for. I look at it and I love it, and I see red, and I'm like red hair, and I'm like oh my god. I think I fondly of that, but it, again, is not me."
"Then I see the journey that it's been to you know. I did put out 'Put Your Hearts Up' with red hair, and that felt weird," she added. "I felt like it was keeping me in… everyone thinks I hate that record, I do not, but I do consider it a transitional part of my life. That's why I never made an album or anything because I didn't feel like that was an accurate reflection of who I was as an artist or a person. This is a confusing time. This also was a song written during a writing camp when I was writing songs for Victorious, and it's heavy, and it kind of ties me to that."
"What do you do when you're an actress on a television show who's trying to pursue a music career simultaneously because you're insane and can't wait," she went on. "You dye your hair back and forth every weekend… By the time we did Sam & Cat, we had wigs and it was easier, but then the ponytail, and then you know, it's all been kind of like associated with different chapters of my life."
"My real hair, which is the humungous, curly, curly poof is kind of, I don't know… I say so few people get to see it, and it's cute, and it reminds me of me as a kid, and it reminds me of you know, it's who I am privately," Ariana said of her real hair. "But so is this. I wear my ponytail all the time too, but the curls are definitely something that I don't bring around much."
"I think that's kind of what I envisioned that song being about, is because it's like such an intimate thing to be just like curly shower head, and yeah. My boyfriend [Dalton Gomez] loves it. He's like, 'Curlies, yay!'" she continued. "It's like a very intimate thing, and I think that's kind of what that is about in a way, because like you said, the hair for me is such a guard, character façade type thing, and it's had it's own evolution, but it has always been this kind of costume piece."
In case you missed it, Ariana is up for a few 2020 American Music Awards. See her nominations here!
Like Just Jared Jr. on FB