Wed, 04 November 2020 at 8:30 pm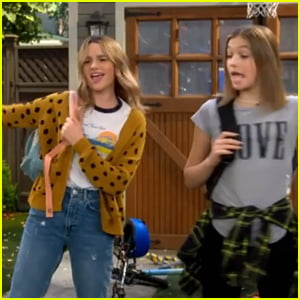 Jules LeBlanc and Jayden Bartels star in this new clip from the premiere of Side Hustle!
In the clip, the girls celebrate the start of the weekend, along with Isaiah Crews, who plays Munchy.
The new show follows best friends, smart and sarcastic Lex (LeBlanc) and confident and tough Presley (Bartels), as they devise a plan to make money when fireworks accidentally destroy a boat belonging to the dad of their quirky friend and neighbor, Munchy (Crews).
Forced to come up with creative ways to earn money to pay for the damages, Lex, Presley and Munchy enlist the help of Presley's tech-savvy younger brother, Fisher (Mitchell Berg), who creates an app to connect with people looking for help with small jobs, and Munchy's bossy older brother Jaget (Jacques Chevelle), who makes sure they keep up with the payments.
In the premiere episode, "Start Hustling," the kids get into a jam after accidentally setting a boat on fire. Needing money, they get a job as living mannequins at a fancy store. The kids are excited until they discover they'll be modeling itchy wool outfits. After spending hours itching and posing, they hatch a plan to close the store early.
In case you missed it, be sure to check out our 10 Fun Facts feature with Isaiah!
Side Hustle premieres THIS Saturday (November 7) at 8:30p/7:30c on Nickelodeon!
Like Just Jared Jr. on FB