Thu, 05 November 2020 at 2:33 pm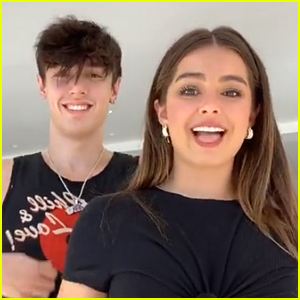 Bryce Hall is dishing on what's going on with his relationship with Addison Rae!
The 21-year-old and the 20-year-old TikTokers shared some cozy Halloween photos earlier this week, and were spotted kissing over the weekend, as well as in his new YouTube video.
Now, in a new podcast interview, Bryce talked about whether their relationship was manufactured, what happens if they get in fights and more.
"We are cool, we are friends. We're vibing. You see our costumes? Internet breaker," he said on the Hollywood Raw podcast with Dax Holt and Adam Glyn. "We're just vibing, doing our thing… I wouldn't say we've been off and on. We've only been off two times. We've never gotten into fights. So, when we do get into fights, we are both so hardheaded, but we are also so nice to each other. We never fight, so the fights we do get in are so rare. And if it happens it's like 'I'm right, no you're right, I mean no I'm right.' It's just petty stuff."
When asked about whether they're relationship was manufactured, Bryce said, "I'm glad you brought that up. I saw a trend on TikTok. It was on my #ForYou page eight times. On December 3rd they are going to break up. I was like 'What the f—?' We are not that smart. We are just like a normal 20 and 21-year-old. As much as it sounds crazy, we are rarely on our phones. We post our stuff and then we get off our phones. We live in the moment. Time flies when you're on your phone, like a lot."
"Guys we aren't going to break up on December 3rd… it's going to be on December 4th!" he added, jokingly. "It's so funny how fake those things are. I can see where they think that though. You see a couple of boy and a girl randomly posting back together after months and getting 80 million views on TikTok. It looks like Justin and Selena."

Bryce Hall on 'Hollywood Raw'
Like Just Jared Jr. on FB